October 18, 2020 Anita LeBlanc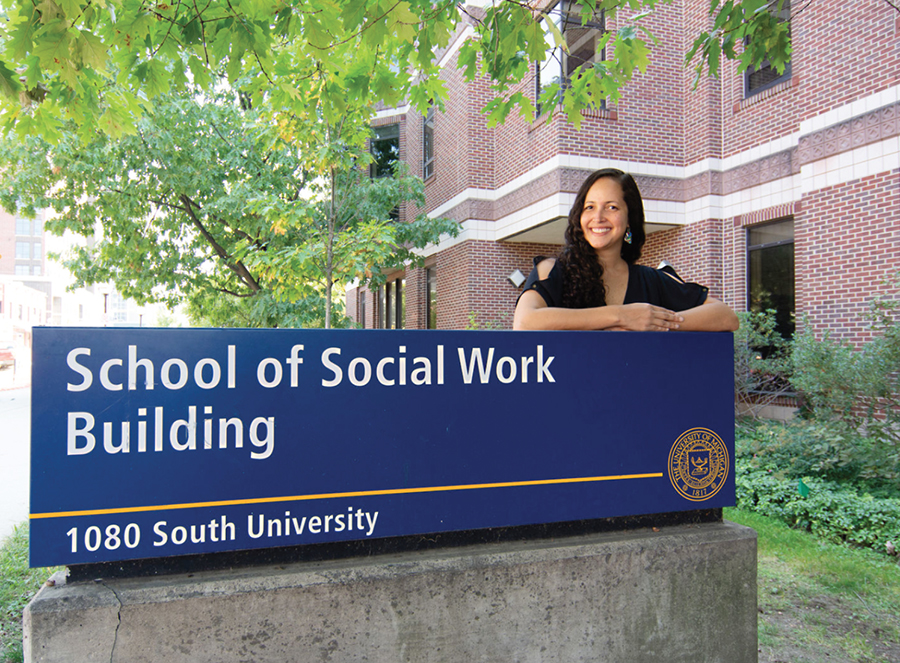 When Fernanda Cross left her native Brazil to learn English, she never could have imagined that 20 years later she would be a tenure-track professor at the University of Michigan.
At just 19 years old, she knew that a thorough understanding of the English language was critical to her career aspirations. She joined friends in Ann Arbor and learned English quickly through local community programs. But she had difficulty writing the language.
One of her English as a Second Language instructors suggested she enroll in a basic writing class at Washtenaw Community College.
"I had heard that WCC was immigrant friendly and affordable, which was exactly what I needed," Cross said. "My early instructors looked past my broken English and heavy accent to perceive my potential and encourage me to continue studying.
"WCC's International Student Center provided a community for me at a time when I felt isolated from others. Because of these experiences, I continue to encourage everyone I know, especially those from the Latinx immigrant community, to start at WCC before applying to four-year colleges."
Just as an ESL instructor led her to WCC, the college took her to another level with instructors who encouraged her to pursue her bachelor's degree and enroll in classes that would transfer to the University of Michigan.
While earning her degrees, Cross worked as a Portuguese/Spanish interpreter for the University of Michigan Health Care System, Ann Arbor Public Schools and local health clinics.
"This experience put me in direct contact with Latinx immigrants and the social workers and other providers working to support their well-being," Cross said. "Interpreting for hundreds of immigrants over the years exposed me to other issues that were common among them, especially those with children."
Her experience, combined with a desire to further advocate for immigrant families, led her back to the University of Michigan to earn her Master's in Social Work.
After working as a social worker for a few years, primarily with Latinx immigrant families, she returned to the university to earn her Ph.D. in Developmental Psychology.
Upon her graduation, the University of Michigan offered her a one-year postdoctoral research fellowship, followed by a tenure-track appointment at its School of Social Work.
She is grateful for the educational opportunities WCC offered.
"I believe WCC provides a much more accessible and less intimidating opportunity for an education to anyone interested in learning," she said. "Without WCC, there would be many of us who would not have had the chance to discover our potential. I believe that everyone deserves this opportunity—and that WCC provides it."
Cross feels it serendipitous that she married into a family with a foundation, the Ray and Eleanor Cross Foundation, that annually works with a local organization to provide more than 20 full-ride scholarships to WCC students via the WCC Foundation.
She says she intends to continue this family tradition in future years as her finances permit.
Tags: Alumni Profile, October 2020, On The Record, Student Success, WCC Foundation, ousearch_News_On The Record