October 21, 2020 Rich Rezler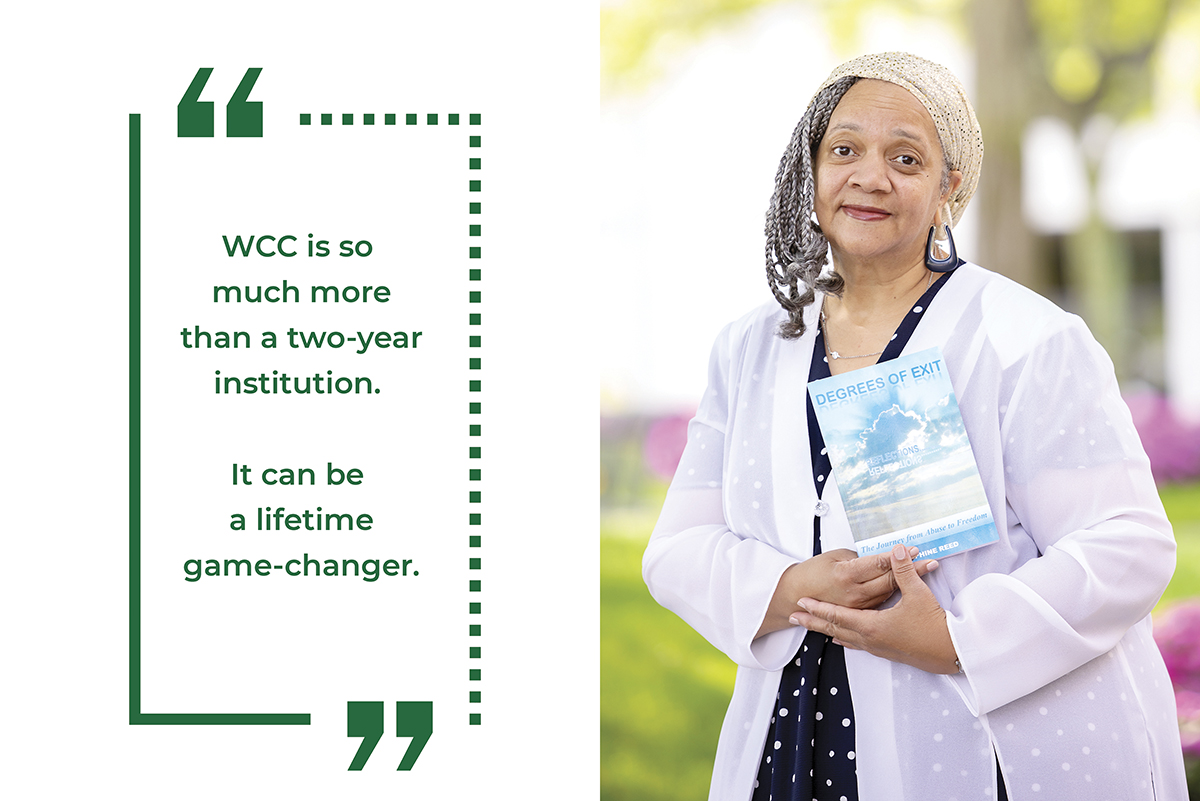 After three decades of living under the control of two abusive husbands, Delphine Reed emerged from darkness determined to spend her senior years as a beacon of light for others.
So it's of little surprise that the 69-year-old Superior Township resident emerged from the isolation and heartbreak of a worldwide pandemic with something positive in tow – her new book, Degrees of Exit: The Journey from Abuse to Freedom.
On April 1, 2019, Reed challenged herself to work on the book every day for a full year. On the morning her streak was to hit 353 consecutive days of writing, she was admitted into the hospital after testing positive for COVID-19. Nine days later, her 98-year-old mother entered the same hospital.
Reed recovered, but her mother did not. Over the span of 72 hours, Reed lost her mother, an uncle and a cousin to the coronavirus.
After a brief period of mourning, Reed turned her attention back to the book. "We all need to thrive despite this present environment we're in," she said. "That's important to me."
Her self-published book was completed in one year and one month and is available at truthtotriumph.com. Within its 112 pages, Reed says she has "bared my soul" to take readers on "an intimate walk through reflections of my sufferings and victories."
When asked how many copies she has sold, Reed immediately steers the question in a different direction.
"It's not about copies sold, it's about people helped. If I can help one person find her way out of an abusive relationship — or keep one individual from getting into one — the book has been a success," she said. "Most of my life has been about volunteering. I have some talents that could have gleaned financial prosperity, but my mindset has always been, 'What can I give?' not 'What can I gain?'"
Reed recently completed a Master of Business Administration degree at Madonna University, but became a strong advocate of the community college 10 minutes from her home at the same time after capitalizing on many of the free resources available to all Washtenaw County residents.
"The bottom line is, WCC is so much more than a two-year institution," Reed says. "It can be a lifetime game-changer. In my experience, the connections and contacts I've made have literally set my senior life on a whole new trajectory."
Reed's first engagement on the WCC campus was with the college's Entrepreneurship Center, where she was seeking help to launch an interactive workshops that would help senior citizens improve their memory skills. Thanks to the guidance of the center's Entrepreneur-in-Residence Cheranissa Roach, her pursuits morphed into establishing Destiny Writer Ventures LLC related to her book, motivational speaking and life coaching services.
"(Roach) has opened up a well of possibility inside me to have the confidence and courage and see beyond my limited perception of what is available to me even with the degrees I have," Reed said. "She has stretched, and is continuing to stretch, all the confidence I lost in the midst of being abused."
Looking beyond the Entrepreneurship Center, Reed started forming a community within her local community college. She took seminars at the Greater Washtenaw Small Business Development Center located on the campus. She started using the college's Bailey Library for all of her research because, she says, the librarians were far more helpful there.
She enrolled in one credit class, Business on the Internet, that she calls "phenomenal." She said the class is "constructed in such a way that I got everything I needed to be able to comprehend how to put my vision out there and conduct virtual business in today's world."
Reed also found great inspiration from a speaker in the college's Global Discussion Series sponsored by the International Student Center and the Student Activities Department. Kizito D. Kalima spoke at the event about surviving genocide in Rwanda and later founding the Peace Center for Forgiveness and Reconciliation.
Having found a bond, Reed and Kalima stayed in touch after his speech. Reed has her own tales of forgiveness and reconciliation after caring for one of her abusive ex-husbands while he was in the throes of dementia.
One child coined his own phrase for Reed's current stage of life: Exit Cinderella, Enter the Queen. "He calls me God's Cinderella," she says with a smile. "He says, 'People treated you like you were a slave, but you're about to have the experience of being a completely different person.'"
Tags: Entrepreneurs-in-Residence, Entrepreneurship Center, October 2020, On The Record, Student Profile, Student Success, ousearch_News_On The Record