October 21, 2020 WCC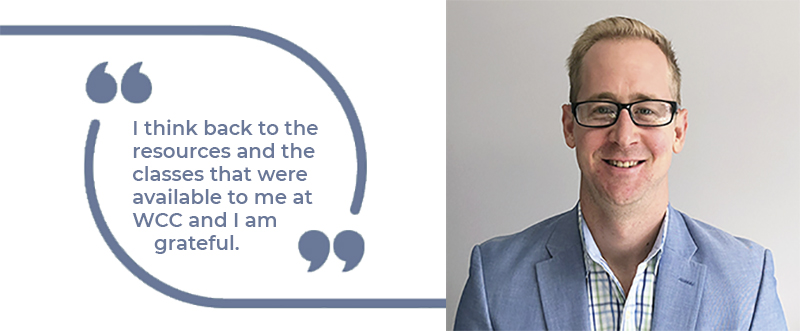 It's a bit cliché, but Washtenaw Community College alumnus Derek Sanborn truly is living his dream.
That dream? Owning his own business.
The Pinckney native, now 36 years old and living in Vienna, Va. just outside Washington D.C., is CEO of PatientStudio, a digital management platform serving smaller medical care providers and their patients.
"I've always wanted to own my own business," Sanborn said. "Even as a teen, a friend of mine and I bought three computers and started a software business."
For Sanborn, WCC was the right place at the right time for him to start his college journey.
His father encouraged him to go to college and earn a degree that would help him achieve his dream. But he also put the onus on him to pay his own way.
With a Michigan Merit Award scholarship, he was able to attend WCC, graduate in 2005 and then transfer to Michigan State University, where he earned a degree in business.
"I hold WCC and MSU in high regard," Sanborn said. "I think back to the resources and the classes that were available to me at WCC and I am grateful."
One of those resources was getting involved in sports. "I played on the WCC club hockey team and couldn't believe that it was all free," he said.
Hockey has stayed with him. Before the COVID-19 pandemic, he was coaching a Washington D.C. area youth hockey team, playing other teams up and down the East Coast in a highly competitive league for 17 and 18-year-olds.
That competitive spirit carried over to his work as an entrepreneur. After college, he received an offer to move to the D.C. area for a job with a tech company. After four years there, he decided it was time to go out on his own.
And he did it without piling on a load of debt. "I'm a saver," Sanborn said. "A partner and I did end up with a Small Business Administration loan but mostly we used our own savings to start the company."
According to the company website, "PatientStudio is a patient management platform made to meet and exceed the expectations of modern patients. PatientStudio partners with healthcare practices of varying specialties to streamline office operations and enhance the patient experience."
The company's software platform makes it easier and faster to schedule appointments, send out reminders and ease paper work for patients and staff.
"Moving smaller medical offices to this platform is what a new generation will expect to encounter," Sanborn said. "They don't want to talk on the phone to schedule or discuss anything."
As with most business owners, the COVID-19 pandemic presented unprecedented challenges.
"We felt the right thing to do was to offer our services free of charge to help the smaller medical providers at this incredible time," he said.
The free "tools" PatientStudio offers, he said, will help the smaller medical office cope but also, in the future, may lead to a long-term paying partnership with the company.
As for the future, Sanborn, ever the entrepreneur, only smiles: "There could be other opportunities out there."
Start A Business
Tags: Alumni Profile, Entrepreneurship, October 2020, On The Record, ousearch_News_On The Record