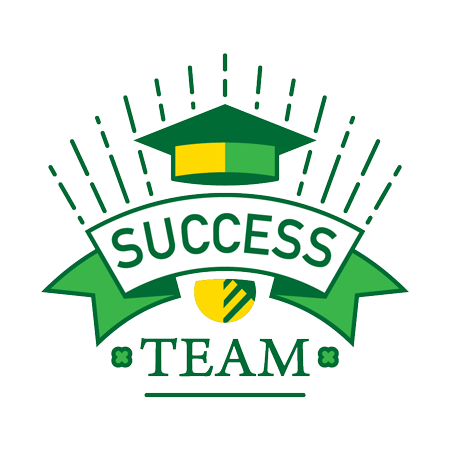 At WCC, we care about your success and want to help you achieve your goals. We know that sometimes you may need more support, guidance, or assistance in achieving those goals - and that's why we've created Success Teams. You are central to your team and you will co-create your experience with your Success Coaches, Academic Advisors, and Faculty Mentors.
Your Success Team
The Welcome Team is available to work with you through the day-to-day operational needs you may have as a student at WCC such as admissions, registration (adding/dropping classes), and transcripts. They are able to help you find answers to questions and connect you to the right next person.
Your Role
Stay active and informed with deadlines, your account information, and financial aid status (if applicable).
Your Success Team
Academic Advisors provide professional advising to assist you with understanding degree requirements and selecting your program or degree pathway. They can help you with mapping out which classes to take and when to take them, and help you with navigating transfer guides. Your academic advisor can also help you with exploring career paths and offer free career assessment inventories. Go to your academic advisor for all things academic-goal related!
Your Role
Be open and honest about thinking about majors, careers, classes, and options so that you can engage in productive dialogue with your advisor to build your academic plan. Communicate with your advisor in plenty of time to get the help you need to choose your classes and get registered each semester.
Your Success Team
Success Coaches provide holistic, personalized, one-on-one support to you while you are at WCC. They are a great resource to help you navigate obstacles that might impede your success, connect you to campus services and resources, work with you to develop goals and be your accountability partner, and can provide academic pro-tips for maximizing your college experience.
Your Role
Maximize your time with them to hone your skills in time management, study skills, goal setting motivation, and more. Understand they are your guide and can help you with accessing campus resources and services.
Your Success Team
Faculty Mentors who teach courses in your program(s) of interest are also part of your Success Team to provide you with mentorship, additional support with career networking and academic opportunities.
Your Role
Engage with your faculty mentor for insight into your program and future career.
---
Success Teams at a Glance: Start here!
Based on your program of study, you have a dedicated team of people who are here to help guide and support you. You can find your assigned academic advisor and success coach in your Student Profile, which can be accessed from MyWCC>Student Services Dashboard.
You are not limited to working with the advisors, counselors, and coaches assigned to your team, but you are encouraged to connect with them often and use them as much as possible to help you achieve your goals. Need help? Submit the form below and a member of your success team will reach out to you.