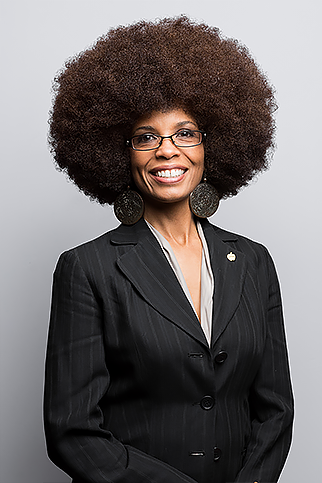 Ms. Angela Davis
Chair
Ms. Angela Davis was born and raised in Ann Arbor and was elected to the Washtenaw Community College Board of Trustees in 2016. She was re-elected in 2022 for another six-year term and has served as the Board's Secretary (2017-18), Treasurer (2019-20) and Vice Chair (2021-22).
Trustee Davis was appointed to represent the college on the Southeast Michigan Council of Governments (SEMCOG), which supports local planning through technical, data, and intergovernmental resources. She served on its Transportation Committee in 2021.
Ms. Davis sits on the AJL Usher Board of New Hope Baptist Church in Ann Arbor and is an active member of the Ann Arbor National Association of Negro Business and Professional Women's Club. She also volunteers at the Ann Arbor Art Center's jewelry studio and participates in charitable fundraising events.
Ms. Davis works in Seating Division at Magna International, a mobility technology company and automotive supplier, and also owns Davis Jewelry Collections, founded in 2011.
She attended Ann Arbor Public Schools and graduated from Pioneer High School. After high school, Davis attended Bishop College (now known as Paul Quinn College), an HBCU in Dallas, Texas. She later enrolled in Concordia University, where she completed her Bachelor's degree in Human Resources Administration while attending Washtenaw Community College. Ms. Davis relocated to West Virginia, where she enrolled in Mountain State University in Beckley, WV, and received a Master's degree in Strategic Leadership.