March 3, 2021 Washtenaw Community College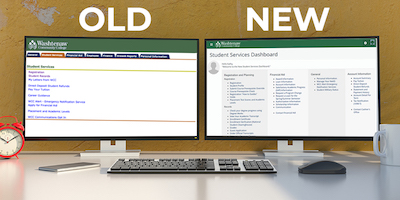 Are you ready for a better online experience? Washtenaw Community College is excited to launch an upgraded and redesigned Student Services module within MyWCC during the evening on Wednesday, March 3.
The upgraded system has an up-to-date look and feel and delivers a number of important enhancements, including a modern user interface, enhanced navigation and new functionality.
An integral part of the Student Services module, of course, is registration. The WCC registration tool is also being updated with intuitive tools and a mobile-friendly design to make it easier than ever for students to register for classes.
No more copying CRN codes from the class schedule before heading to the registration page – you can now use the enhanced search tool to sort and compare sections right within the registration tool!
Within the registration tool, you can:
View your registration status
Build course plans
Create a week-at-a-glance schedule preview
Review Degree Works to track your program completion
And more!
Check out this video overview:
As a reminder, Summer and Fall registration opens for returning students on March 10 and new students on March 11. If you have any questions about the upgraded registration module, contact the WCC Student Welcome Center via live chat, by emailing [email protected] or calling 734-973-3543.
You can also check out some FAQs and the above tutorial video on the Registration: How to Guide page on wccnet.edu.
Tags: Students