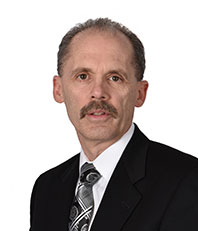 In January 2018, Tim Bourgeois began serving as the executive director of the Michigan Commission on Law Enforcement Standards. He retired from the Township of Kalamazoo (Michigan) police department on December 31, 2017 after 41 years of service. Bourgeois served the department as a cadet, dispatcher, police officer, undercover narcotics detective, patrol sergeant, detective sergeant, detective lieutenant, captain of operations and since 2003 as its chief of police.
Bourgeois is a past president of the Michigan Association of Chiefs of Police and served on several boards and commissions in the criminal justice arena. While chief, he also held four gubernatorial appointments: to the Council on Law Enforcement and Reinvention; the Michigan Intelligence Operations Center for Homeland Security; the Mental Health Diversion Council and the Michigan Commission on Law Enforcement Standards.
Bourgeois has taught at both the graduate and undergraduate levels as well as at professional development and leadership seminars.
Bourgeois has an Associate's of Applied Science degree in Law Enforcement from Kalamazoo Valley Community College; a Bachelor of Arts in Public Service Administration degree from Siena Heights College and a Masters of Public Administration degree from Western Michigan University. He is a graduate of the Kalamazoo Regional Training Academy and the 187th session of the FBI National Academy.