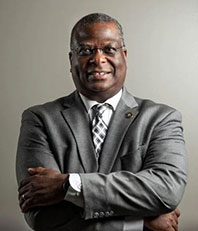 Michael Cox was appointed Chief of Police of the Ann Arbor Police Department in the City of Ann Arbor, Michigan on July 15, 2019. Prior to his appointment Chief Cox was a 30-year veteran of the Boston Police Department. While last there he served as the Bureau Chief and Superintendent of the Bureau of Professional Development, overseeing the Boston Police Academy, The Firearms Training Unit, the Police Cadet Unit, Recruit training and in-service training for all sworn Boston Police personnel.
Chief Cox served a total of 15 years on the Command Staff in diverse functions over that time. Before the Academy, Chief Cox was the commander of the Operations Division, primarily responsible for the Emergency 9-1-1 Response Services for the City of Boston. In addition, Chief Cox was previously assigned to the head of Internal Affairs as the Assistant Bureau Chief of Professional Standards, Zone Commander of Area E, and the Commander of the Forensic Division and Assistant Bureau Chief of the Bureau of Investigative Services.
Before Chief Cox's Command Staff assignments at the Boston Police Department, he worked as a Sergeant Detective in the Intelligence Unit where he performed Dignitary Protection duties, served as the liaison to the U.S. Secret Service, and supervisor assigned to the Joint Terrorist Task Force. At this rank, he also served assignments in the Internal Affairs, Recruit Investigations, and Audit & Review Units. As a Police Officer, Chief Cox worked in Area B-3 until joining the City-wide Anti-Gang Violence Unit until his promotion to Sergeant in 1995. Chief Cox is a two-time Medal of Honor recipient and received numerous other Commendations and awards while serving in the Boston Police Department.
Chief Cox is a graduate of the FBI National Academy, Police Executive Research Forum and holds degrees from Providence College in Business Management, Curry College where he obtained a Master's in Criminal Justice, and Boston University's Questrom School of Business where he obtained an MBA.