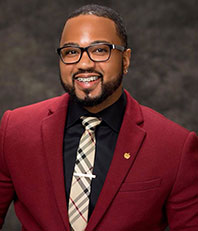 Loren is an emerging leader within the Higher Education sector whose expertise is informed by years of sales, cross-channel marketing, strategic outreach, enrollment and retention, program development, event management, and community relations. He favors the motto "failing forward faster" and lives by his favorite quote by Helen Keller, "A bend in the road is not the end of the road…Unless you fail to make the turn."
Currently serving as the Manager of Corporate & Community Engagement and the Director of Ironworkers Education at Washtenaw Community College, Townes's primary focus is managing the college's strategy and plan related to engaging with key community-based organizations and businesses. Additionally, he oversees the operation, execution, and relationship management for the Ironworkers Annual Training program with 850+ participants on campus.
Townes is in the final stretch of obtaining a Master's Degree in Business Administration at Wayne State University within the Mike Ilitch School of Business. He currently holds a Bachelor of Science in Business Administration, Cum Laude, from WSU and an Associate of Arts in Business, with Honors, from WCC.
Townes's demonstrated ability to excel – inside and outside the classroom – has led to many features in publications, and prestige awards. Some of his most notable achievements include:
Michigan Occupational Special Populations Association (MOSPA) Outstanding Postsecondary Professional State Award Recipient (2019)
30 under 30 Honoree for Manufacturing Engineering Magazine (2018)
Contributed to near double-digit enrollment increases (approx. 10%) at WCC in the Division of Advanced Technologies & Public Service Careers (2018 – 2017)
25 under 25 Honoree of the Mike Ilitch School of Business (2017)
Commencement Speaker for his graduating class at WCC (2015)
Led sales team to exceed sales revenue by $140,000 at Foot Locker Inc. (2015)
Phi Theta Kappa National Honor Society Inductee (2014)
Although Townes is very active in his professional and academic endeavors, his heart is attached to the community, and he continues to devote time to civic engagement when time permits. He currently serves as a Professional Mentor through the Warrior Alumni Inspiring Mentees (AIM) program at Wayne State University.