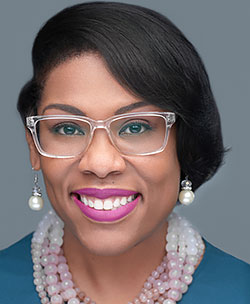 Karinda L. Washington
Karinda L. Washington is Acting Executive Director for Faith Initiatives and Chief of Staff at the U.S. Department of Homeland Security (DHS) Office of Partnership and Engagement (OPE) in Washington, DC.
In April 2020, she was selected to establish a new faith-based office and Faith-Based Security Advisory Council within OPE to identify and share best practices for securing houses of worship. As chief of staff, she administers OPE's multimillion-dollar budget, manages daily operational complexities, provides strategic direction for the DHS Loaned Executive Program and Exemplar training with industry pilot program, advises DHS leadership on public-private partnerships, and champions social impact initiatives Department-wide. Prior to these assignments, Ms. Washington served as an External Affairs Specialist in the Department's Private Sector Office.
Before DHS, Ms. Washington served 10 years and held multiple positions for Michigan Legal Services to help protect homeownership. She continues to advise senior nonprofit organization leaders on how to rebuild and empower local communities in her hometown of Detroit, MI and in Washington, DC.
Ms. Washington is a graduate of Eastern Michigan University where she obtained her bachelor's degree in English: Written Communication and Wayne State University where she received a master's degree in Communication: Public Relations and Organizational Communication. She is a Harvard Kennedy School Senior Executive Fellows alumna.