Breakfast the next day was a whirlwind affair as we had to be at the airport early for our 9 a.m. flight. It was stressful checking in as it took an hour to reach the counter because of the long line. Thankfully, our flight lasted only an hour. After landing in Cusco, we climbed into our transportation to start our two hour drive to our next home away from home.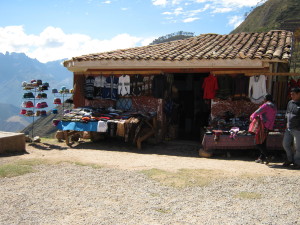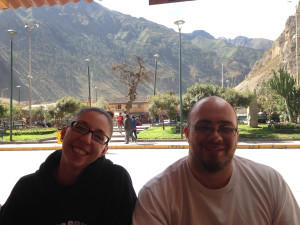 Our van wove its way through the hills. Some curves were gentle. Other curves made you cling to the seat in front of you and pray the upcoming hairpin turn wouldn't send the van off the road. We stopped once along the way to take in the breathtaking scenery and to purchase a few local wares from the vendors along the roadside. I purchased a beautiful gray scarf decorated with Machu Picchu, llamas and a native symbol of Peru.
We arrived at Ollantaytambo where we explored the town and searched for food after settling into our rooms. Several of the group members visited the market. The market here is a series of stalls where they sell woven goods, stone carvings, wood carvings, scarves and everything a tourist would want to look for while traveling Peru. Among the wares for sale were some of the erotic pottery that is associated with the prehistoric Moche culture.