For those who got up early on May 27, a group of us went for a walk along the beach before breakfast. To learn more how our walk went, please see Ilo: Beach Stroll.
Afterwards, we trekked back to the center where our routine was the same.



When I grew tired of picking at the casting from the maxillary (upper jaw) and the mandible (lower jaw), I took pictures of the group at their work as well as the remains they were putting into Standard Anatomic Position (SAP).
At one point, I visited the radiography group to see the x-rays they made of a skull one of the other anthropology students wanted because of the skull's unusual features. To see what our radiography students are up to while we work record data on our Standards forms, please see Ilo: Radiography.
Our day ended slightly earlier as we visited the Museo Municipal Chiribaya next door.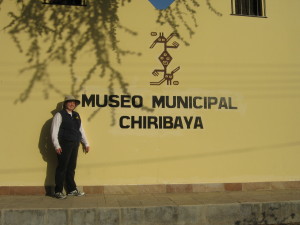 The museum would have been more enjoyable if the signs included English. It was frustrating to know the information is there, but language is a barrier. However, the reconstruction of the burials was unique to peer down through the grass to see the mummy bundle and the offerings made to it.