Ilo: Day 5: Picarones
May 30 was our half day. Thankfully, prying the casting off the skull and mandible I left the previous day did not go too badly. Several other skulls and mandibles kept me busy during the rest of the day.
One of the anthropology students took the time to investigate the people's height by taking some additional measurements.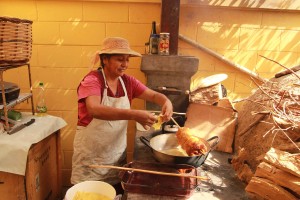 The center fed us lunch, and we were given the treat of fresh picarones for dessert. They are like a fried doughnut with the option of dribbling melted molasses on top of them. The cook made so much of the dough that we shall be seeing them again during lunch.
Afterwards, we had time before the bus arrived. We relaxed and explored the center. I visited the radiography students who showed me their x-rays. One individual had jewelry on his person while the other had a pot in his chest cavity.
When we returned to Ilo, we divided into groups where we did our own things. Mr. Skufis and a few of the others encountered a festival down near the shoreline. To see the dancers performing at the festival, please see Ilo: Cultural Festival.
Ilo: Day 6: Trip to the Past 2
We had another half day at the center of our usual work.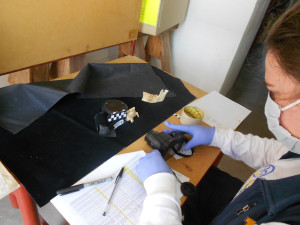 After lunch, Dr. Guillen took us on a tour of the old dig sites she and her team did. Our first visit was Loreto. Bones of animals and humans, animal droppings, potsherds and textile scraps lie scattered on the sandy landscape.
Our second site was across the river where there was an ancient Chiribaya copper smelting factory. Huge pots remained behind in the crumbled ruins while animal droppings, bones and potsherds littered the ground. We hiked to the nearby valley side where we encountered what appeared to be traditional concrete, which might have been used to help the irrigation of the fields.
We finished our day by visiting a Pisco factory. The factory's owner scurried among the machinery while enthusiastically talking about the manufacturing process in Spanish. He gave us a free sample of the Pisco Italia.