We rose early on June 8 to pack and eat breakfast. Afterwards, we said our goodbyes before we hopped into the van for our next adventures. For three hours, the van snaked its way between Peru's inland and its coastline, the waves crashing over the brownish-black lava rocks in the water. We stopped for pictures near a part of the coastline where cactus peppered the rocky landscape between the road and the Pacific Ocean. Eventually, we traveled into Peru's inland. The road followed the landscape's natural topography, punctuated by the occasional man-made tunnel. We passed through several green valleys where farmers worked their fields. Smoke wafted through the open windows of the van from the fields, farmers burning the previous years stubble in an attempt to return nutrients to the soil.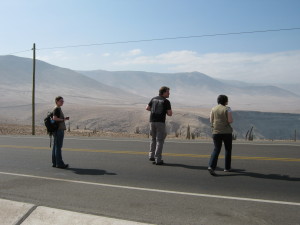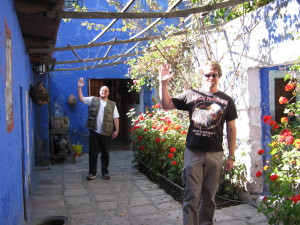 We arrived in Arequipa, known as the White City because of its white washed stone structures. Our hostal for the night was "La Casa De Melgar." The hostal combined modern necessities like WiFi and the bathroom with the influences of Spanish and indigenous people through the beautiful stained glass ceiling in my bathroom and pottery. After we settled, some of us bee-lined for McDonald's. Home never tasted better than fries and chicken nuggets.
We spent the rest of the day exploring Arequipa, shopping and resting. My favorite time had been reading and writing in the dining area, which was next to a gorgeous garden. That evening, we ate at a restaurant with Dr. Guillen and her husband. Some of group members chose to be adventurous by ordering alpaca steak and llama burgers. While we enjoyed the unique eats in Ilo during our previous two weeks, I was happy to eat fish and chips.