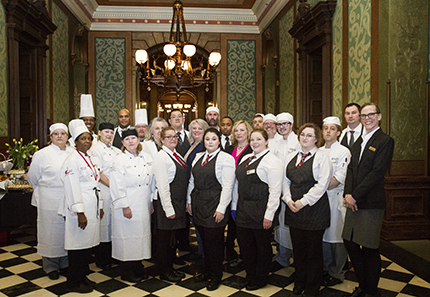 The sun had begun to make its debut as 17 culinary students made their way to the state capitol.
Secured in the multi-vehicle convoy sat pounds of vegetables, meats and drinks. Tablecloths, napkins, plates and serving utensils were loaded, too. The Washtenaw Community College students and instructors were ready to feed hundreds of government officials April 19 in celebration of Community College Day at the Michigan State Capitol in Lansing.
Culinary Arts department chair Derek Anders, Jr. could not pass on the invitation to showcase the department and students or to serve key policy makers of the education and food sectors.
"I immediately replied back and said 'yes' we want to do this because, for us, this was a fun way to show a large and, I think, important audience who we are in terms of Washtenaw Community College," Anders said. Among the invited 300 attendees were senators and state representatives on Community College and Higher Education committees.
A Michigan-themed menu was crafted featuring items grown in or representing the Great Lakes State. Bites included chicken meatballs, summer sausage with Michigan cherry mustard, whitefish rillettes and Michigan salads – containing bleu cheese mousse and Michigan sparkling wine-soaked cherries – as well as a Michigan Mule drink (Vernors, lime juice and cherry puree).
"It was fascinating and challenging to put together a menu that really made sense for the occasion and made sense for the difficulty and level of the student – to challenge them but not to be overbearing – but to also put together really unique flavors to highlight that a culinary arts program can be more than just a lot of traditional things," the full-time faculty member explained.
One of the goals Anders was pleased to meet was teaching students – who ranged in skill level from introductory to advanced – how to prepare and cook for a large volume of people during the resume-boosting event.
Student Ryan Trotter, of Whitmore Lake, said the event gave him another opportunity to hone his organizational, time management, preparation and collaboration skills.
Trotter, who is set to graduate in May, is part of the "front of house" staff at Garrett's restaurant on WCC's campus. However, the day before the prestigious event, Trotter and his classmates were called to the kitchen to help prepare food. The tasks demanded long hours tat students and faculty split into shifts.
Culinary student Jason O'Rear volunteered to work the Community College Day lunch despite already completing his cooking classes during previous semesters.
"I really enjoy serving, cooking for people … because cooking and food is love," O'Rear explained. For many people in the program, their passion comes from cooking for and serving people, the Ypsilanti resident added.
Many people made comments to students and the chefs during the two-hour event, O'Rear said, recalling how one person returned to the station he managed four times, praising the deliciousness of the food.
WCC was not the first college to serve a meal on Community College Day, but they certainly "blew previous schools out of the water" according to several legislators, said Dean of Business and Computer Technologies Eva Samulski – who is the overseeing administrator of the culinary program.
To view additional photos from the event, visit WCC's Flickr page.
Tags: 2018, Culinary Arts, Michigan State Capitol, ousearch_News_2018