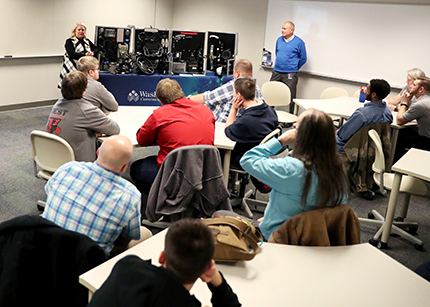 The Square One Education Network recently called on Washtenaw Community College to showcase its new instrument that allows interactive learning to help stifle hacking in the auto industry.
On display for a few dozen high school students – mostly from districts in the Metro Detroit area – was WCC's new mobile hacking workbench, a replica of a vehicle's complete communication and computer systems.
The groups of high schoolers were on campus Nov. 12 as the next participants in Square One's Innovative Vehicle Design Program. The Southfield-based organization walks students through the process of building an autonomous vehicle that will later be used in competitions. The workshop ended with a session on cybersecurity, taught by WCC instructors Michael Galea and Cyndi Millns.
"When we think of hacking, we think about computers," Galea explained. "A modern car is really a whole bunch of computers on wheels."
Millns and Galea shared the importance of incorporating cybersecurity in the design process of automobiles.
"(Autonomous vehicle) technology is never going to work unless the public trusts it," Square One Chief Executive Officer Dan DuBois said. "And the biggest part of trust is cybersecurity and so our projects – the natural evolution – is to adopt a cybersecurity platform so these students can understand that, when you're programming an autonomous vehicle or connected vehicle, you really need to think about security."
Connected vehicles are designed to constantly send information to one another about road conditions, hazards and other relevant details so the vehicle can make decisions before it encounters the issue. If a connected vehicle does not protect access to the shared data, hackers could gain entrance and take control of vehicles.
Tags: 2018, ousearch_News_2018