When Washtenaw Community College students return for the start of the winter semester on January 14, they'll be greeted by 90 new recycling and waste stations placed in corridors, lobbies and other common spaces around campus.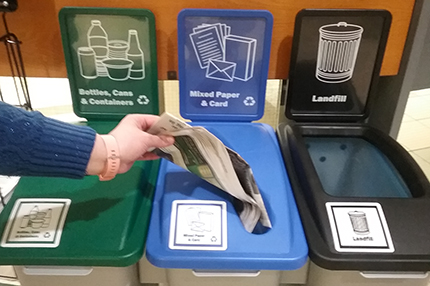 The college's Recycle Operations department placed the stations over the holiday break with the goal of making recycling efforts even more easy, accessible and effective.
"WCC has long boasted an engaged and active recycling community," said Recycle Operations Manager Rebecca Andrews. "The new stations are easier to use; have standardized signage, colors and shapes; and should help to further reduce the amount of waste sent to landfill."
Andrews reports that WCC recorded a 31-percent landfill diversion rate in the 2017-18 academic year, meaning that nearly one-third of the waste created on campus was transferred to a recycling center rather than into a landfill.
That number is expected to increase with the new stations, which include three large receptacles with different colored covers. Andrews said the uniformity of how the identical stations are positioned across campus will help students, faculty and staff develop habits that will increase the amount of waste that ends up in recycling bins.
At each location, the bins are positioned in the following order, from left-to-right:
GREEN (Bottles, Cans & Containers)
Plastic bottles and plastic containers marked with the #1 through #7 recycling code. Containers should be rinsed.
Tin and aluminum cans and lids, rinsed. Empty aerosol cans.
Glass bottles and jars, rinsed.
BLUE (Mixed Paper & Card)
Newspaper, junk mail mix, glossy inserts.
Magazines, catalogs, paperback books and phone books.
Office paper, note paper, envelopes.
Paper bags.
Box board, boxes and sleeves.
Note: Corrugated cardboard too large for bins can be set nearby for custodial services to collect.
BLACK (Landfill)
Any non-recyclable material.
Recycling is actually the third priority for waste according the hierarchy used by the Recycle Operations department: Reduce, Reuse, Recycle, Recover and Dispose.
"Our No. 1 aim is to reduce the production of waste," Andrews said. She said a couple simple examples used around campus include encouraging students, faculty and staff to use double-sided printing and to purchase refillable coffee cups and water bottles.
WCC faculty and staff who want to further reduce the amount of waste sent to landfills can request an organic waste bin for their kitchenette or break room. The compost and castings produced by that program are used in the WTMC vegetable garden on campus.
Andrews says the most common recycling error made on campus is the placement of disposable coffee cups – both paper and Styrofoam – in recycle bins. "Coffee cups are not recyclable, and residual coffee contaminates the whole bin," she said. "Our first choice would be that people use a reusable cup, but if that's not possible the single-use coffee cup must go in the landfill bin."
Another thing to consider when using the recycling stations: Every bin on campus is sorted by hand. "I think if people understood that, they may consider more carefully what they place in the recycle containers," Andrews said.
Any questions about WCC's recycling program or the new recycling stations should be directed to Andrews at 734-677-5712 or [email protected].
RELATED STORY
A little teamwork by the WCC Recycle Operations department, its custodial staff and members of the student honor society Phi Theta Kappa is resulting in significant financial support for the college's Student Resource Center food pantry. Those groups are rolling up their sleeves, removing returnable cans and bottles from the college's recycling stream and donating the funds. Food pantry coordinator Carol Tinkle says the donations to date have "exceeded our wildest expectations."
Tags: Facilities Management, Recycling, Sustainability, ousearch_News_2019