When colleges are successful, the state is successful, Michigan Lieutenant Governor Garlin Gilchrist said Feb. 20 while standing inside a WCC healthcare simulation lab.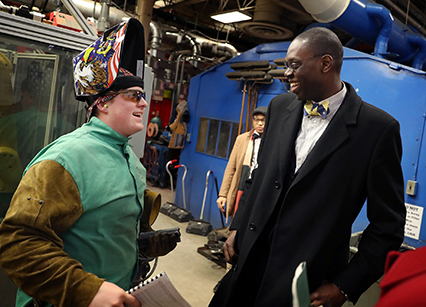 The Detroit native visited Washtenaw Community College to learn more about how the college is preparing its students for the careers of today and tomorrow. Gilchrist commented that they are seeking ways to invest, partner and support higher education institutions.
"What's important to our administration is that everyone in Michigan feels like they will be met with training and resources if they want to continue in their career (or) if they want to go in a different direction in their career," Gilchrist said. "Institutions like Washtenaw Community College are really important in the infrastructure to make that happen."
In 2018, WCC granted more than 3,000 degrees and certificates to its graduating class.
While at WCC, Gilchrist observed the welding, robotics and 3D printing labs in the Advanced Transportation Center. He had the opportunity to talk with a welding student, who discussed the techniques they were learning in class. He also saw the School of Nursing's simulation labs and operating room.
One leg of the tour was a stop to view the college's mobile hacking workbench and how WCC is training students in cybersecurity.
One "inspiring" observation Gilchrist noted was seeing people "growing themselves" by honing their skills and knowledge in their respective fields of studies.
View photos or watch a video from his visit.
Tags: Advanced Transportation Center, Garlin Gilchrist, Lieutenant Governor, Nursing, Welding, cybersecurity, ousearch_News_2019