Versatility was on full display at the opening reception of the 2019 Student Art Show on Thursday at Washtenaw Community College. The evening event featured an awards ceremony, with the show's top two honors going to student artists who excelled while experimenting with mediums outside their primary focus.
The show's first-place award went to Edith Ostapik of Ann Arbor for her pen-and-ink drawing titled "Surface Movement Blues." Ostapik is a designer and photographer who wanted to experiment with visual movement. The goal of the piece, she said, was to "bring your eyes in an out of the paper – to create depth – with width of lines and the space between lines."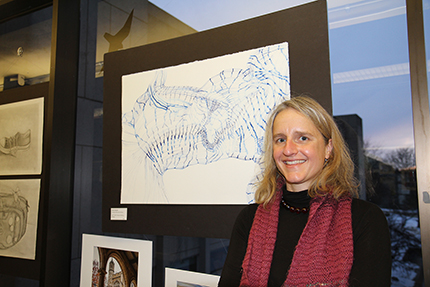 Ostapik has already completed WCC's associate in Art in Fine Arts Degree program and is currently pursuing an Associate in Applied Science Degree in Photographic Technology.
Her instructor, Jill Jepsen, said Ostapik's photography background brings a fresh perspective to her design and drawings. "She did a stunning job," Jepsen said. "She's a student that always takes the process and creative problem we're working on to a higher level."
Second-place went to Therese Jarjoura for her sculpture titled "Seeing Eye." Jarjoura's first love is painting. She won first place in last year's Student Art Show with an acryclic-on-canvas abstract painting titled "Bridging." She had a similar painting, titled "Mary's Well," sell for more than $11,000 at a charity auction.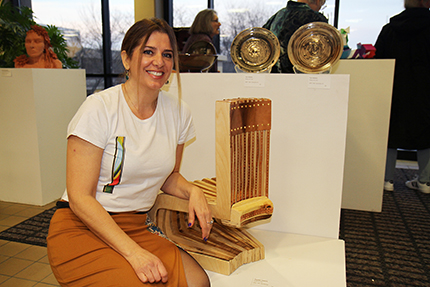 Jarjoura, an Ann Arbor resident born in Israel, said "Seeing Eye" was her first foray into sculpture. It was a project for a Three-Dimensional Design (ART 108) studio class led by I.B. Remsen.
Most of the Student Art Show awards were selected by guest juror Sandra Murchison, the Director of the School of Art and Design at Eastern Michigan University. Others were "choice awards" selected by college representatives; those works will be displayed in college offices for one year. Murchison also selected a "most promising" award in each artistic discipline; the equivalent of an honorable mention award.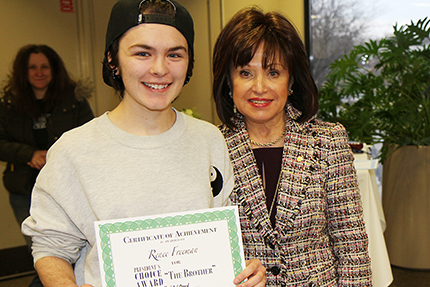 The student artwork will remain displayed on the second floor of the Student Center through April 6. At the conclusion of the show, one final award winner will be announced – the People's Choice Award winner. Ballots and the ballot box for that award are located on a table near the windows on the north end of the building, as is a price list for all work that is available for sale.
A rundown of all of this year's winners:
FIRST PLACE AWARD
Edith Ostapik, drawing, "Surface Movement Blues"
Prize: Tuition reimbursement
Juror's comment: "This is a stunning display of a bold, confident web of lines handled in a most gentle and delicate matter. There is a lovely range of indigo blue values and clear sense of movement. Excellent!"
SECOND PLACE AWARD
Therese Jarjoura, sculpture, "Seeing Eye"
Prize: WCC Bookstore credit
Juror's comment: "A impressive example of craftsmanship and an ambitious number of pieces slotted together. The copper pieces finish this work in a unique way and emphasize the striped pattern."
THIRD PLACE AWARD
Irene Mokra, drawing, "Self Portrait"
Prize: Art supplies
Juror's comments: "The layers or marks seem to shimmer and hover over and around this careful portrait. The facial expression reads as knowing this figure is sure and sound."
PRESIDENT'S CHOICE AWARD
Renee Freeman, drawing, "The Brother"
Chosen by: WCC President Dr. Rose B. Bellanca
DEAN'S CHOICE AWARD
Stacy Atkeson, photograph, "Bacteria Mat, Yellowstone National Park"
Chosen by: Kristin Good, Dean of WCC Arts & Sciences
MOST PROMISING, 2D ART DISCIPLINE
Amanda Goodge, mixed media drawing, "Ornate Boxes"
MOST PROMISING, 3D ART DISCIPLINE
Gigi Bennett, mixed media sculpture, "Dancing Mother Earth"
MOST PROMISING, GRAPHIC DESIGN/ANIMATION
Gina Hewitt, graphic design poster, "Social Justice Poster"
MOST PROMISING, PHOTOGRAPHY DISCIPLINE
Peggy Etheridge, photography, "Dance"
Tags: Associate of Art, Fine Arts, WCC Student Art Show, ousearch_News_2019