April 17, 2019 Richard Rezler
The Foundations in Digital Video I class at Washtenaw Community College is designed to introduce students to "the basics of video production and editing." Those exact words appear in the first sentence of the VID 105 course description.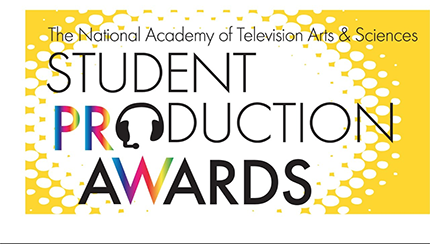 One project created in that class this year has dramatically surpassed those expectations.
"Wild Thoughts," a 3-minute dance video created and directed by Jacqueline Steinbacher, is one of 10 WCC works chosen as finalists for a College/University Student Production Award by the Michigan Chapter of the National Academy of Television Arts & Sciences.
According to WCC Digital Media Arts faculty members Dan Kier and Matt Zacharias, the college's screening committee has never submitted work produced in VID 105 to the Michigan NATAS for award consideration. That changed this year, and the decision was validated when "Wild Thoughts" was named a finalist in two categories: Music Video and Director.
"The team that Jackie put together within the class, they really nailed it. I was impressed with how this group of beginners managed every aspect of the production, from lighting to camera movement," Zacharias said. "And as a director, Jackie created an interesting marriage between the camera work and the dance. The choreography and camera were set in sync to behave with the dancers and the end-result had a unique, dynamic flare."
Steinbacher, a 30-year-old professional dancer from Ann Arbor, returned to WCC to learn the technical skills necessary to accomplish her artistic vision of filming dance from the dancers' perspective. She pitched the idea in class and was joined for the project by fellow students Adam Campos, Zahra Sule and Josh Zucal.
The first-year video students join a long list of WCC representatives on the finalists list. Winners in both the College/University and High School divisions will be announced when WCC hosts the Michigan NATAS' annual awards ceremony on Sunday, April 28 in Towsley Auditorium.
WCC students have won 21 Student Production Awards over the past seven years while competing primarily against students from four-year college and university programs. Last year, Steven St. John (Long Form – Non-Fiction) and Reznor Angel (Animation/Graphics/Special Effects) brought home titles.
The College/University awards have a total of 46 finalists in 18 categories. Joining Steinbacher and the "Wild Thoughts" crew are the following WCC student projects:
MUSIC VIDEO
Hate When I Win
Jalen Rieves
SHORT FORM – NON-FICTION
The Shots That Count
Michael Herrst
Invisible Illness
Trey Sarmento
A B-Boy Life … Thus Far
Steven St. John
PUBLIC AFFAIRS/COMMUNITY SERVICE
Profile on Chuck Kettles
Edward Zajdel, Kayley Schiller, Paul Paliani, Justin Godfrey
COMMERCIAL
Rotary Watch Spot
Tim Coons
DJ's Barber Shop
Torrence Williams
ANIMATION/GRAPHICS/SPECIAL EFFECTS
Delusia
Johannes Pardi
PHOTOGRAPHER
Full Circle
Liam Cares
Belle Isle Zoo
Sam Grina
Wild Bill
Lewis Kellum, Sam Grima
Steinbacher called on Amanda and Daniel Moreno – a nationally ranked Argentine Tango duo from Sterling Heights – to be the main focus of "Wild Thoughts." She worked with them through the choreography process and the team filmed in her parents' living room – one move at a time, over and over – during an eight-hour session.
"The goal of the video was to amplify what dancers would like to show during their dance," Steinbacher said. "Whether it is the emotion of a particular movement, or the speed, or the musicality – I was looking to bring attention to those individual aspects within a dance, and to bring out the overall beauty of dance."
Being in a beginner class, the students were working with basic equipment that limited their production, but they did have top-of-the-line imaginations when it came to capturing the right shots.
"At one point, we thought it was important to get a shot from a lower angle, so Adam (Campos) was lying on his back on a blanket with the camera and Josh (Zucal) was pulling him around the living room," Steinbacher said. "It was a great team. Everybody had different perspectives and really expanded my vision with their ideas."
Steinbacher, who has one WCC associate degree in photography, is pursuing another in Digital Video Production. But she plans to stick around WCC as long as it takes to learn everything she can to master her artistic vision.
She admits the first effort was a bit of a roller coaster. She said she found the video shoot to be stressful and her initial reaction was disappointment; but after editing she loved the final product. Now's she's excited to try again as she continues to learn new technical skills.
"Even when they were initially talking about it in class, I was kind of nervous for them," Zacharias said. "This was an ambitious project with an elaborate vision and the end result is very impressive for a first-time effort."
For more information on WCC's Digital Media Arts program, visit dma.wccnet.edu. "Wild Thoughts" is available on YouTube.
Tags: ousearch_News_2019