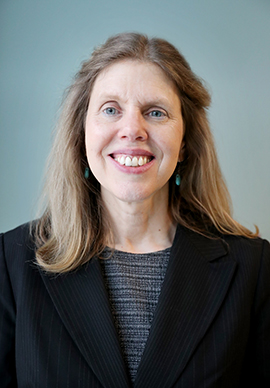 Susan Dentel, a Washtenaw Community College life sciences faculty member and coordinator of its STEM Scholars program, is one of 22 instructors from around the nation to receive 2019 Dale P. Parnell Distinguished Faculty designation from the American Association of Community Colleges.
She received the award during the AACC's annual conference in Orlando, Florida last week and was recognized by the WCC Board of Trustees at this evening's monthly meeting.
"Susan has demonstrated an unswerving commitment to student success, access and equity throughout her career as a faculty member in the life sciences at WCC," WCC President Dr. Rose B. Bellanca wrote in her nomination of Dentel. "We're proud of her many accomplishments and tireless work on behalf of her students and are fortunate to have her as part of our family."
Along with her primary teaching duties, Dentel was the driving force behind the formation of the WCC STEM Scholars, a new student support program that offers scholarship opportunities to those seeking to pursue a four-year degree in science, technology, engineering or mathematics. It focuses on the success of women, underrepresented minorities and economically disadvantaged students.
The program launched in Fall 2018 with a 26-student cohort. It grew out of two National Science Foundation grants, for which Dentel has served as grant coordinator and co-principal investigator.
"Susan saw this as an opportunity not only to make WCC a premier STEM college in the country, but – more importantly – to provide an option for students who might not otherwise have the opportunity to study in a STEM field and continue studies at a university," Bellanca said.
Dentel joined the college as a part-time faculty member in 1995 and has been part of the college's full-time professional faculty since 2009. She specializes in biology and many of its branches, including anatomy, physiology and pathophysiology.
She's widely respected on campus for creating a supportive and compassionate learning environment while varying her presentation style and engaging students with collaborative activities.
Named in honor of former AACC President and CEO Dale P. Parnell, the designation was established to recognize individuals making a difference in the classroom. Criteria for the award includes:
A demonstration of passion for the students and the classroom.
A willingness to support students, inside and outside of the classroom.
An inclination to participate in college committees.
A willingness to go above and beyond what is required to ensure that students are successful in their academic endeavors.
This is the second year the AACC has presented the award. Tom Penird, a WCC Industrial Technology faculty member, was part of its inaugural class.