Washtenaw Community College students won five awards at the Michigan Chapter of the National Academy of Television Arts & Sciences' 41st annual Student Production Awards on Sunday, April 28.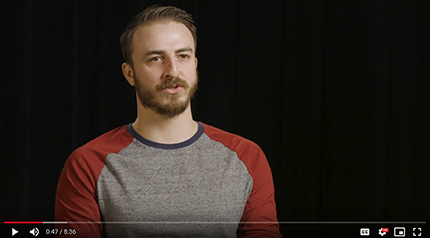 Mike Herrst won in the Short Form – Non-Fiction category for his autobiographical documentary, "The Shots That Count," about overcoming addiction. (Watch)
The team of Jacqueline Steinbacher, Adam Campos, Zahra Sule and Josh Zucal won in the Music Video category for their project, "Wild Thoughts." (Watch)
Steinbacher also won in the Director category for "Wild Thoughts."
Liam Cares won in the Photographer category for the footage used in the profile of his artist father, "Turning Back the Clock." (Watch)
Johannes Pardi won in the Animation/Graphics/Special Effects category for "Delusia." (Watch)
It was the second straight year the Michigan NATAS handed out awards in both the College/University and High School categories at WCC's Towsley Auditorium. The five first-place honors raises WCC Digital Media Arts students' total to 26 awards over the past eight years.
WCC's five awards was second only to the six categories won by Michigan State University students.
Learn more about WCC's winning projects and the students who created them:
Mike Herrst's autobiographical documentary uses a decade worth of old video footage to complement a modern-day interview that tells the story of his love for filmmaking and how alcoholism nearly ended that pursuit.
"It's a story about losing and finding the passion for filmmaking, in and out of recovery," said Herrst, a 25-year-old Canton resident. "Once the alcoholism takes over, everything gets put aside. Having to fight out of that was a tremendous struggle for many years. … With a clear mind, I was able to figure out what my dreams were, what my passions were, and pursue them successfully."
Herrst started taking video classes at WCC in 2010 as a dual-enrolled senior at Manchester High School and continued through his freshman year of college in 2011-12 before dropping out and putting filmmaking aside.
After getting sober, Herrst became involved with the Michigan Convention of Young People in Alcoholics Anonymous. Doing video work for that group reignited his passion and he returned to WCC in 2016.
He completed a Digital Video Production certificate last spring, but continues to take classes while he works in the filmmaking industry as a freelance colorist, cinematographer, digital imaging technician and other roles; including work on feature films and music videos.
Herrst said he was "tremendously honored" to win the Michigan NATAS award.
"Making this film, it was a struggle to relive the past a little bit," he said. "But it's brought on a lot of growth. It was great having the support of my instructors, who kept telling me it's an important story to tell."
The double award-winning "Wild Thoughts" project was created by a team of students in an introduction to video class. Digital Media Arts faculty members Dan Kier and Matt Zacharias said the college's nomination committee had never submitted a work created in the intro class for award consideration.
Jacqueline Steinbacher is a 30-year-old professional dancer from Ann Arbor who came to WCC to learn the technical skills necessary to accomplish her artistic vision of filming dance from the dancers' perspective.
She formed a team of classmates who filmed Amanda and Daniel Moreno performing the Argentine Tango. While Steinbacher conceived and directed the project, she said Adam Campos, Zahra Sule and Josh Zucal all "had different perspectives and really expanded my vision with their ideas."
"The goal of the video was to amplify what dancers would like to show during their dance," said Steinbacher. "Whether it is the emotion of a particular movement, or the speed, or the musicality – I was looking to bring attention to those individual aspects within a dance, and to bring out the overall beauty of dance."
Zacharias said he was impressed with how the beginning students managed every aspect of "an ambitious project with an elaborate vision."
Although he won the Photographer award for a project with the working title "Full Circle," Liam Cares has renamed his four-minute mini-documentary "Turning Back the Clock." It's a profile of his artist father, Will Cares.
"I've been surrounded by my father's art, and his influence, my whole life. He seeps creativity, and I knew I could portray that accurately," Cares said. "Plus, I really wanted to show off what he does with something I've spent so much time practicing."
The video project intersperses an interview with Will Cares with footage of him working on his latest painting project, a series of circular-themed pieces that symbolize the passage of time.
Liam Cares said winning an award for "Turning Back the Clock" was significant because it was the first project he's completed solely on his own.
"Working on my own allowed me to push my limits and test my abilities, so I was happy to produce what I did," he said. "I know everybody else nominated in the category is very talented, so I was really happy to receive the award."
Liam Cares is a 2016 graduate of Ann Arbor Pioneer High School who is pursuing an Associate in Arts Degree in Digital Video Production at WCC, but has already started doing commercial work and filming videos for local artists.
He said he left high school wanting to build a career in fine arts, but instead found himself attracted to video.
"I was mostly interested in drawing, but found a segue from one art form into another art form," Cares said. "That became easier after meeting other creatives at WCC; and because of the amazing faculty. They've built a really great video program and hope it continues to grow."
The Animation/Graphics/Special Effects category of the Student Production Awards is open to student projects that excel in any one of those specialties. Johannes Pardi's year-long passion project, Delusia, uses all three.
Described as a "wonky alternate dimension full of strange creatures and wacky environments," Delusia is mainly stop-motion animation that incorporates a live action character (played by Pardi himself) with computer generated graphics thrown in, Pardi says, "to add a little spice and make things communicate with each other a little better."
Pardi, a 26-year-old Ann Arbor resident, first experimented with filmmaking as a child, creating stop-motion animation with Legos and his uncle's camera. He returned to the process for the first time in nearly eight years for his final video thesis project in a Portfolio and Project Seminar class.
"Returning to live-action helped turn this into a real personal project, diving into myself and my feelings in a very introspective way," Pardi said. "The whole thing is a reflection of myself, and at the end of the day it seemed to reverberate with people in a positive way."
Pardi said he worked on actual production of the project "pretty much full-time for the greater part of a year."
Tags: Digital Media Arts, Digital Video Production, Student Awards, Student Production Awards, Student Success