LOUISVILLE, Kentucky — When it comes to working on cars, Washtenaw Community College student Tyler Stott is able to do a little bit of everything.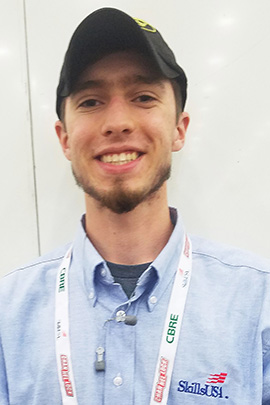 He can weld. He can paint. He's can service automobiles. He can do auto body work.
And, for good measure, Stott welds gas pipes, works on copper plumbing, HVAC systems and building demolition, while working for Professional Thermal Systems in Howell.
On Thursday, Stott displayed his skills in the Collision Repair Technology category while competing in the 55th annual SkillsUSA National Leadership and Skills Conference at the Kentucky Exposition Center.
RELATED: WCC's Auto Body program
Stott worked his way through testing in structural repair, metal and plastic repair, spot refinishing, feather, prime and block and aluminum dent repair. The last category wasn't judged, but was included on a trial basis. Next year, aluminum dent repair will be added to the list of judged tasks.
"I feel like I did pretty well coming here for the first time," Stott said. "There are areas I can improve on, but now I know what it's like here and what I can do."
Stott hopes to keep on working toward one day doing auto repair on custom cars. The 21-year old graduate of Livingston Christian School near Brighton came away a little wowed by the experience.
"It was nothing like what I expected. It's a lot bigger and upscale with more people than I imagined," Stott said.
Stott will find out how he fared on Friday night when the awards ceremonies take place.
Stott is one of three WCC students competing at this week's SkillsUSA competition. Evan Pasternak competed in the overall welding category on Wednesday, and Cody Gray took part in Thursday's Automotive Refinishing Technology competition.
Jay Mosquera, a full-time automotive repair lab assistant and part-time instructor at WCC, said he took notice when Stott enrolled in auto body classes.
"Tyler was mostly taking classes in auto service and welding before he came over to our side," Mosquera said. "We noticed right away he was a pretty serious student."
College and high school students from around the country are competing in a wide variety of skills ranging from automotive, aviation and diesel technology and maintenance to skills such as advertising design, crime investigation, hair styling, culinary, robotics and many other categories.
SkillsUSA estimates that more than 16,000 people — including students, teachers and business partners — are attending this week's conference. The annual event returns to Louisville in 2020 before moving to Atlanta in 2021 to start a six-year run there.
— Story by NuMedia Services LLC for Washtenaw Community College
Tags: Auto Body, SkillsUSA, Tyler Stott, ousearch_News_2019