June 26, 2019 Washtenaw Community College
LOUISVILLE, Kentucky — Evan Pasternak's development into a national-caliber welder is Exhibit A for what results from hours of hard work and determination.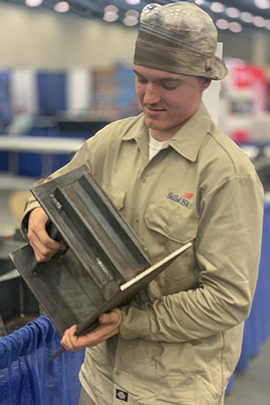 Now the Washtenaw Community College student hopes the time he applied to learning his trade will reward him with a first-place medal at this week's SkillsUSA 55th annual National Leadership and Skills Conference at the Kentucky Exposition Center.
Pasternak spent the better part of Wednesday working his way through five one-hour disciplines in the Overall Welding competition — Stick, Mig, Tig, Flux Core, and Oxy-Fuel Cutting. He also checked his trade knowledge during a challenging written testing session.
Now, Pasternak waits until Friday night's closing ceremonies and awards presentations to find out if his effort was enough to add his name to the list of six previous WCC welders who won SkillsUSA national titles.
That list includes Pasternak's instructor, Alex Pazkowski, who won in 2010. Other previous overall winners are Glenn Kay, Brad Clink, MIles Tilley, Joe Young, and Ray Papiernak, last year's overall winner.
RELATED: WCC's welding & fabrication program
"I feel very confident in my work (during Wednesday's competition). It was very mentally exhausting, but I know I put everything out on the table, so whatever happens now, happens," said Pasternak, a 2017 graduate of Pinckney High School.
RELATED: Video of Pasternak at SkillsUSA
Pasternak started his trek to Louisville in December when he contacted Pazkowski, to ask to about the possibility of being entered into this year's national competition.
"He said, 'Hey, get me in there.' So I did," Pazkowski said. "He's hungry. He's very motivated, very persistent. He just has an amazing work ethic, something you don't see too often."
It's not uncommon to see Pasternak at the WCC welding shop when its doors open in the early morning. And it's not uncommon to see him there until the place closes its doors 15 hours later.
"When the shop is open, I'm there," Pasternak said. "I got my work ethic from my parents. They always showed me not to be afraid to work hard. If you show work ethic, people will notice. And one day you will notice the positive results. That will keep you doing what you enjoy."
Pasternak said he is taking a little longer path to earning his degree at WCC, mainly because of the time he is putting into preparing for competition. In addition to state and national events, he has set a goal of participating in the 2021 SkillsUSA world championships.
Pasternak is one of three WCC students competing at this week's SkillsUSA competition. Tyler Stott competed in the Collision Repair Technology category and Cody Gray took part in the Automotive Refinishing Technology competition.
SkillsUSA estimates that more than 16,000 people — including students, teachers and business partners — are attending this week's conference.
College and high school students from around the country are competing in a wide variety of skills ranging from automotive, aviation and diesel technology and maintenance to skills such as advertising design, crime investigation, hair styling, culinary, robotics and many other categories.
— Story by NuMedia Services for Washtenaw Community College
Tags: Evan Pasternak, SkillsUSA, Welding, ousearch_News_2019