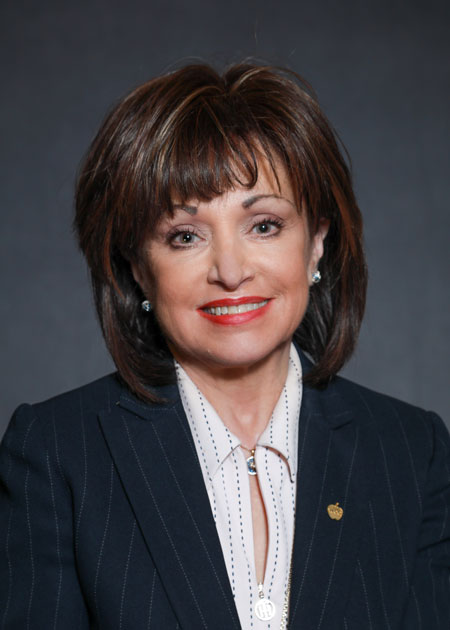 The Washtenaw Community College Board of Trustees voted to extend the contract of President and CEO Dr. Rose B. Bellanca to June 30, 2022.
The 6-0 vote (Trustee Ruth Hatcher was absent) was taken during the Board of Trustees' July meeting. The board also voted to increase Dr. Bellanca's 2019-20 salary by 1.5% to $224,097 and to provide her paid bereavement leave to be used before Jan. 1, 2020.
"The board is pleased to extend President Bellanca's contract," said Christina Fleming, chair of the WCC Board of Trustees. "Under her leadership, the college continues to remain an affordable and accessible institution of higher education and a valued resource to Washtenaw County residents."
Successes under Dr. Bellanca's leadership over the past fiscal year include:
Developing extensive programming to support skill sets required for jobs in the intelligent transportation systems and connected and autonomous vehicles job sectors. She spoke at the 2019 Global Symposium on Connected and Automated Vehicles and Infrastructure sponsored by the United States Department of Transportation's Center for Connected and Automated Transportation. Bellanca also brought Michigan Governor Gretchen Whitmer and Lt. Governor Garlin Gilcrest to campus to tour the college's Advanced Tranportation Center and demonstrate how WCC is helping to position Michigan as the global epicenter for advanced transportation.
Securing a five-year contract with the United Union of Roofers, Waterproofers & Allied Workers to hold its instructor training program at WCC. This addition marks the fourth international trade union to use the college's state-of-the-art facilities to train instructors in the latest technologies and techniques for jobs in the skilled trades. These unions bring a combined economic impact in excess of $10 million to the Washtenaw County area.
Receiving approval for the Advanced Transportation Center expansion project construction phase by the Joint Capital Outlay Subcommittee as a construction authorization in Public Act 207 of 2018. The project received a $2 million state appropriation.
Increasing scholarship fundraising over 60% and overall fundraising by 142%.
Launching the Finish Line Scholarship program which provides scholarships to students who have already completed 75% of credits toward a degree, but have stopped classes due to financial or other difficulties. This scholarship is designed to give WCC students the resources to finish their programs.
About Rose B. Bellanca, Ed.D.
Dr. Rose B. Bellanca is the President and CEO of Washtenaw Community College in Ann Arbor, Mich. In this position, she is responsible for the organization, administration and strategic direction of the college, which serves more than 100,000 students and community members a year, employs nearly 1,500 full- and part-time employees, and has an operational budget of more than $100 million. Dr. Bellanca has more than 20 years of executive leadership in higher education. Prior to coming to Washtenaw Community College, Dr. Bellanca was the President of Northwood University's West Palm Beach Campus, the President of St. Clair Community College and the Provost of Macomb Community College. She is the fourth president to lead Washtenaw Community College, since its inception in 1965.
###
For information about Washtenaw Community College visit: wccnet.edu.
Media contact: Susan Ferraro, WCC Director of Media Relations, 734-677-5295, [email protected].