Come for the fun and games, leave with important information about the wide range of programs and services available to Washtenaw Community College students.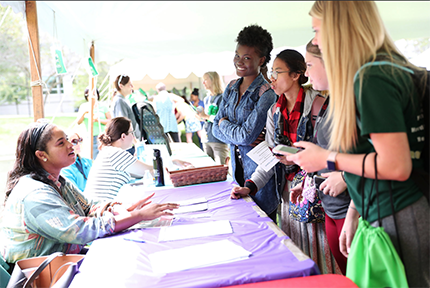 Welcome Day for Fall 2019 semester will be held from 10 a.m. to 2 p.m. on Wednesday, Sept. 11, in Community Park, located between the Business Education (BE) and Gunder Myran (GM) buildings on campus. (See campus map.)
"Welcome Day is our first contact with new students, and we've arranged it so that everything they need to know about what the college has to offer is right there in one place for easy access," said Rachel Barsch, WCC Supervisor of Student Activities.
Of course, returning students are also welcome to come check out the more than 80 booths spread out across the Community Park stage and five large tents. Many of the booths will be staffed by representatives of WCC programs, services and student groups. Others will be run by organizations that provide special services to WCC students and the greater community.
There's also plenty of entertainment planned -- including a dunk tank, music, crafts and giveaways at booths. Several local restaurants will be on hand passing out free samples.
All activities are free to current WCC students.
For more information, contact the Student Activities Office at 734-973-3500 or email Rachel Barsch at [email protected].
Tags: Welcome Day, ousearch_News_2019