Mitch Smith was hired at Dura GAS Milan Metal Systems, LLC, as a temporary employee making $9 hour. Five years later, thanks to an apprenticeship program facilitated by Washtenaw Community College, he's a card-carrying tool and die journeyman making more than triple that hourly rate.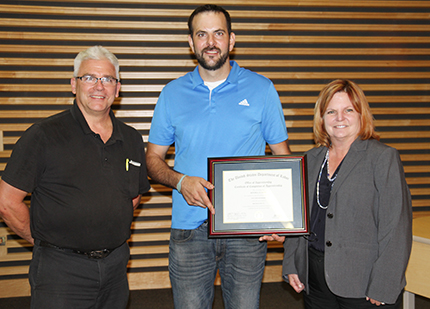 "My life has changed a lot in that time. I have a career path now. I know I have a future. I have stability for my family," Smith told a group of WCC and Milan Metal Systems employees gathered at a recent luncheon organized to honor the completion of his apprenticeship. Smith's framed Department of Labor journeyman certification was displayed between the buffet lunch and chocolate cake.
"I'd be lying if I didn't say I'm glad it's over – and I know my daughters are glad to have me home after work every night – but I'll forever be grateful this opportunity," Smith said.
Milan Metal Systems is a 165,000 square foot metal fabricating plant with nearly 200 employees located in Milan and owned by Dura Automotive Systems. It makes products such as sliding door track assemblies, hood and lift gate hinges, air bag frames and other for multiple manufacturers in the automotive industry.
Smith's supervisor, tooling manager Doug McCormick, is himself a graduate of a WCC-facilitated apprenticeship program with a local tool and dye business. That program concluded almost 40 years prior to the date that Smith earned his journeyman's card.
"Mitch has been a real bright spot for us," McCormick said. "He's the first person to complete an apprenticeship through our business in 15 years. It's great to see that there is a portion of our youth that still desires getting into a program and learning the business from the ground up. We're building the leaders who will run this plant in the future. It's really a stepping stone to wherever you want to go within the industrial world."
McCormick also praised the WCC apprenticeships team, led by Dean of Apprenticeship & Skilled Trades Marilyn Donham, for all of its time and effort helping Milan Metal Systems navigate Department of Labor requirements and put together the appropriate classroom curriculum.
For the past five years, Smith has taken one job-related night class per semester – completing a total of 31 WCC credits – while simultaneously logging 8,000 hours of on-the-job training at Milan Metal Systems. The WCC staff worked with Smith to make sure he was enrolled in the appropriate class each semester, keeping him on track for a simultaneous completion of classroom work and on-the-job training.
"Early on, I was really green, so I could literally learn a new skill in a basic machine shop class on a Tuesday and by Thursday Doug was giving me tasks to utilize those skills," Smith said. "It gave me the confidence to work on machines that previously I had been, quite frankly, terrified of."
Fast forward a couple years to late in Smith's apprenticeship, when he was excelling in advanced computerized machining classes at WCC and learning skills that many veteran Milan Metal Systems employees didn't have.
"It was a complete 360-degree cycle," Smith said. "I went from being intimidated by some of the basic machines in the shop to suddenly using machines that other guys are hesitant to use. It's all about having knowledge and confidence in yourself."
With his apprenticeship complete, new opportunities are available to Smith. He could continue his education with a focus on engineering, or perhaps study business with an eye on management. He said he's not positive he will pursue an associate or bachelor's degree at all – right now he's happy having more time with his daughters, 4-year-old Maddie and 3-year-old Erica – but he's thrilled to have the option.
"(The apprenticeship program) completely changed my career outlook and what I feel I'm capable of," Smith said. "I was a goof-off in high school and never saw college as an opportunity. It wasn't even on my radar. But once I got into the apprenticeship and there were students my age who were working full-time, like me, I started to realize it's possible. It really motivates you to start thinking about what you really are capable of."
---
Click here for more information on how the WCC apprenticeships program.