September 20, 2019 Richard Rezler
Washtenaw Community College is hosting its first gender and sexuality conference, open to students, staff and faculty of all 28 community colleges across the State of Michigan interested in learning about, sharing about and celebrating the LGBTQIA+ communities on their campus.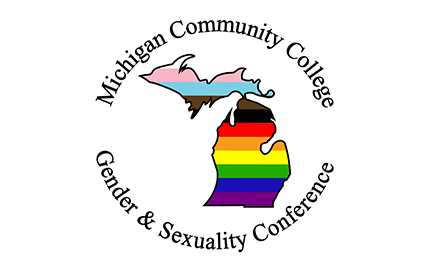 The Michigan Community College Gender & Sexuality Conference will be held Friday, Oct. 18 and Saturday, Oct. 19. It is a joint effort of the college's Out Space student club and four WCC departments (Office of Diversity and Inclusion, Student Activities, English and Faculty Professional Development).
"We're very proud of the diverse learning and work environment at WCC, which is created by the cultural differences and commonalities of our students, faculty and staff," said WCC Executive Vice President of Student & Academic Services Linda Blakey. "We hope this conference helps us – and all the community colleges in the state that will be involved – continue to advance that environment."
Zach Baker, the volunteer conference coordinator who works part-time in the college's Writing Center, said WCC's geographical location makes it a logical place to launch a gathering of the state's community college students, faculty and staff interested in enhancing their campus climate and creating support services for LGBTQ students.
"Ann Arbor is one of the most LGBTQ-friendly areas in the state," he said. "We're located in a natural place for us to be a leader in this field."
Baker said that under President Dr. Rose B. Bellanca, WCC "has taken many bold steps to increase diversity, inclusion and dignity for all LGBTQ folks on campus," and that the Student Activities department "has been, for years, deeply committed to supporting LGBTQ students through the student organization Out Space." He said the conference is a way for the college to establish a greater commitment to the community.
"I've traveled with Out Space students to a number of regional events for LGBTQ students. We've learned a lot about programming and resources available to university students and even some at the high school-level, but there's a gap at the community college level," Baker said.
The conference will focus on ways to close that gap at community colleges around Michigan through a variety of 30-minute breakout sessions by college faculty, 10-minute "rainbow talks" by students, and identity workshops. In addition, the conference will provide students the opportunity to meet with successful professionals with whom they share an LGBTQIA+ identity.
Baker said he is expecting 100 attendees for this inaugural event with hopes to "grow it significantly" in the years to come.
---
For more information on the Michigan Community College Gender & Sexuality Conference, visit wccnet.edu/mccgsc.
Zach Baker is leading a Free College Day class titled "Who Am I? Writing About Gender & Sexuality" on Sunday, Sept. 29. More details and registration available at wccnet.edu/fcd.
Tags: Diversity, Gender and sexuality, Keeping Up the Good Work, LGBTQIA, ousearch_News_2019