Washtenaw Community College awarded three "Equity in Action" awards during a Martin Luther King Jr. Day observance ceremony held at the college today. The inaugural awards were presented to two WCC staff members – Zachary Baker and Kristin Gapske – and one community partner award recipient, Devon Keen, Assistant Director of Outreach and Transfer Student Initiatives at the University of Michigan School of Information.
"There are so many employees of the college, and many more working with our community partners, who are doing great work to promote equity," said WCC Vice President for Instruction Dr. Kimberly Hurns, who presented the awards. "I can't think of a more appropriate time to introduce an award to recognize some of those individuals than at a ceremony honoring Dr. Martin Luther King Jr. These inaugural selections will forever hold an exclusive standing as the examples for which future award-winners will be modeled."
RELATED: More photos from MLK Day celebration
While introducing the award, Hurns noted the WCC Board of Trustees Policy on Access, Success and Equity for Diverse People mandates the college "promotes a climate of access, success and equity for persons from different racial, ethnic and cultural groups, age levels, religions, sexes, gender identities and expressions, sexual orientations, physical capacities, learning abilities and income levels."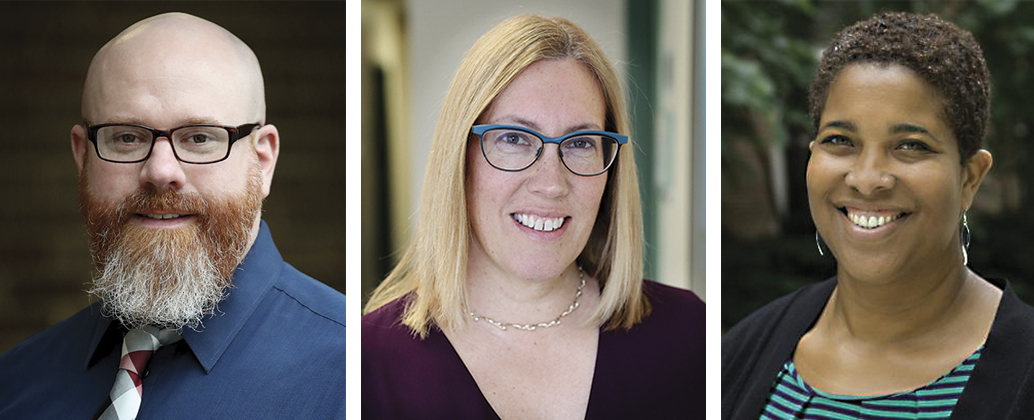 The first WCC Equity in Action award winners include:
Zachary Baker, an employee at the WCC Writing Center, was one of the driving forces behind the Michigan Community College Gender & Sexuality Conference held at WCC in October 2019. Among the first of its kind to bring programming and resources typically found only on large university campuses to the community college level, the conference was open to students, staff and faculty at all 28 community colleges across the state. "Zach created an inclusive event that positively presented WCC's dynamic culture and provided another opportunity for us all to grow and learn at the college," Hurns said.
Kristin Gapske, Director of the Entrepreneurship Center at WCC, won the award for making the center an inclusive place for students, faculty, staff and the community; becoming a model for how others plan programs and work across campus. During the 2018-19 academic year, the center provided entrepreneurial coaching to nearly 240 people and served several hundred more at 120 events and workshops. "Any visit to the Entrepreneurship Center or attendance at one of its events vividly brings to life our board policy statement," Hurns said. "Her examples of inclusion increase equity for everyone the college serves."
Devon Keen, Assistant Director of Outreach and Transfer Student Initiatives at the University of Michigan School of Information, was selected for being instrumental in her work to create opportunities for student success, inclusion and equity through a partnership aimed at creating greater chances for WCC students to transfer to the U-M School of Information. "Devon worked with us to appropriately position communication, evaluate programming and listen to the needs of our students," Hurns said. "She always shows up ready to assist and guide WCC students in meaningful ways."
The college's annual MLK Day observance also included an introduction by President Dr. Rose B. Bellanca, performances by faculty member Gayle Martin and members of the college's Black Student Union, and a keynote address by Pittsfield Township-based attorney Erane C. Washington.
Tags: Awards, Equity in Action, MLK Day, ousearch_News_2020