January 27, 2020 Rich Rezler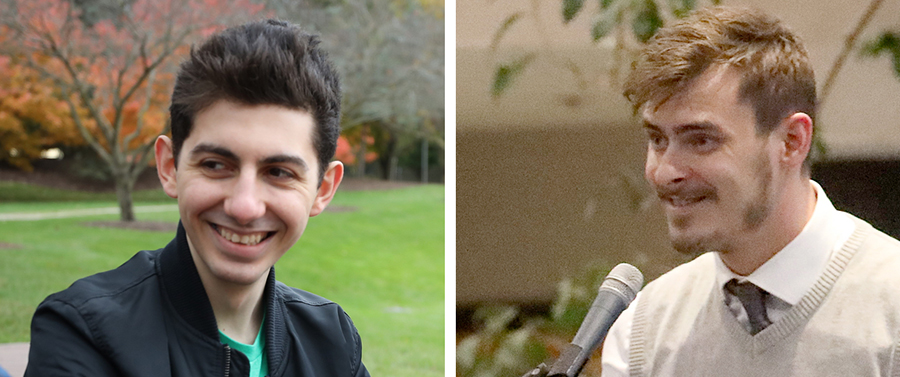 Will there be a three-peat? Two Washtenaw Community College students are among the semifinalists for a prestigious Jack Kent Cooke Foundation Undergraduate Transfer Scholarship, which WCC students won in both 2018 and 2019.
Ali Kurmasha and David Seaman are two of the 456 students nationwide to make the 2020 semifinalists list, selected by the foundation from a pool of nearly 1,500 applicants. Winners of the highly-selective scholarships for the nation's top community college students will be announced in April.
The scholarships are awarded to students intending to transfer to top-tier, four-year institutions to complete their bachelor's degrees. Each selected scholar is provided financial support of up to $40,000 per year for three years, college planning services, ongoing advising and the opportunity to connect with the community of fellow Cooke Scholars.
WCC students Paula Salazar (2018) and Ahmed Ghalib (2019) are among the recent winners of the scholarship. The college also had two winners — Fatouma Abdoulaye Idrissa and Susannah Spence — in 2013.
Scholars are selected based on exceptional academic ability and achievement, financial need, persistence, service to others and leadership.
The semifinalists come from 311 different community colleges in 45 states and the District of Columbia.
"Year after year, we are impressed by the incredible talent and resolve of community college students," Jack Kent Cooke Foundation Executive Director Seppy Basili said in a statement. "We are proud to recognize this outstanding group of semifinalists for their academic achievement."
Meet WCC's 2020 semifinalists:
ALI KURMASHA
You'd be hard pressed to find a WCC student more involved on campus than Ali Kurmasha, a 2017 Pioneer High School graduate who is pursuing a Liberal Arts Transfer degree.
Kurmasha, 21, is president of the Phi Theta Kappa honor society, president of the International Student Association, president and founder of the Intercultural Communication Club, an officer in both the Pre-Med Club and in Student Development and Activities, and a member of other various student clubs.
"I have found a place where I can embrace my identity without any fear of discrimination or prejudice and I want to be an active part of that community," Kurmasha says.
After graduating from WCC in May, Kurmasha plans to pursue a bachelor's degree in Chemistry or Biology, followed by a Doctor of Dental Surgery degree. He says dentistry is a perfect combination of two of his loves: science and art.
"Furthermore, I would like to use my career as a way to help unite people and offer those who cannot afford dental care the chance to smile," he says.
DAVID SEAMAN
The President of the WCC Collegiate Recovery Program and member of Phi Theta Kappa honor society, Seaman is a 4.0 GPA student with plans to attend the University of Michigan to major in Linguistics and minor in Law, Justice and Social Change. He envisions one day entering law school.
Seaman, a 27-year-old Clarkston native, was selected to be the student speaker at the WCC Winter Honors Convocation in mid-January, where he gave an emotional speech about his battle with addiction and the support systems he surrounded himself to find success.
He joined the WCC Collegiate Recovery Program shortly after enrolling at the college and became the peer-to-peer support organization during the Fall 2019 semester.
"The CRP offers a place for someone like me to succeed in what otherwise could be a hostile environment for someone in recovery," said Seaman, who became president of the peer-to-peer support organization during the Fall 2019 semester. "I believe that in order to keep the level of success I have achieved, I must give back what I receive."
When asked what he would do with a scholarship valued at up to $120,000, Seaman's response was "with the scholarship, I would remove the necessity for this kind of scholarship" – meaning he'd focus his education and future career on one day "bring(ing) down the barriers which keep people and communities in cycles of poverty, addiction and crime."
Tags: Awards, National Scholarship, Student Success, ousearch_News_2020