May 23, 2020 Rich Rezler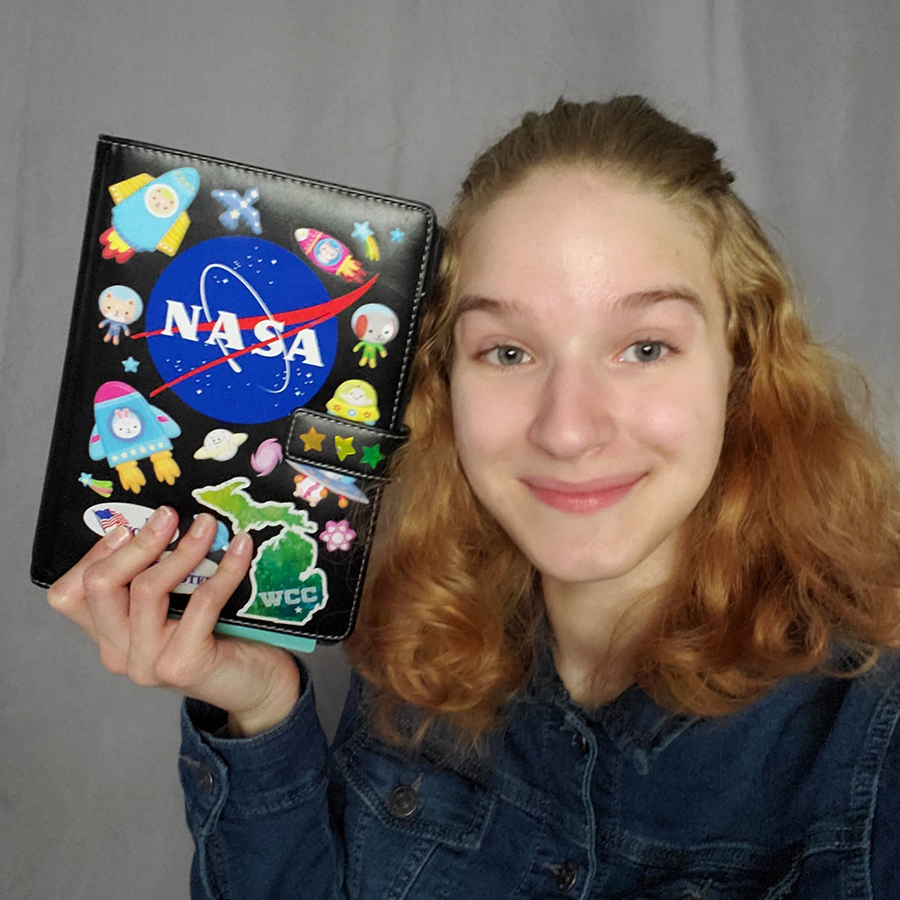 Emilee Seghi's parents have no idea she used to climb atop their family home in South Lyon to gaze into the night sky.
Until now.
So, a brief aside to Jim and Ellen … please don't be too upset. It was those secret adventures, after all, that led to your daughter being selected as a 2020 NASA Community College Aerospace Scholar.
"My interest in space started as a young teenager. I would climb up on the roof and stare at stars," Seghi recalls. "From there, I got interested in identifying what I was seeing and my interest in space and wonder continued. … I'm currently very interested in space flight propulsion and would love to do work that helps take spacecraft further into the solar system."
The 19-year-old recent Washtenaw Community College graduate is headed to the University of Michigan to study aerospace engineering this fall. But up first is an opportunity with NASA, her dream employer.
Seghi is one of 273 select community college students from around the country that will participate in the NASA Community College Aerospace Scholar program in the spring semester. Beginning May 27, the 2020 cohort will work through a five-week online course and final project. Those who excel in the course modules will be selected to participate in an all-expense-paid, four-day visit to a NASA center.
NASA touts that the program gives community college students "an authentic NASA experience" that allows them to get a closer look at the organization's unique missions, diverse workforce and world-class facilities; and learn how to develop their talents, interests and passion to become future STEM professionals.
"I couldn't really think of a better way to spend my summer," said Seghi, who completed the Pre-Engineering Science Transfer associate degree program at WCC with a perfect 4.0 GPA. "I hope to gain more connections with other community college students interested in this kind of opportunity and I'm excited to learn more about the engineering process."
Making a couple of contacts at NASA and getting a leg up on internship opportunities won't hurt, either. While on a telephone call to talk about the program, Seghi revealed she was wearing a pair of NASA pajama pants at that very moment. A hoodie, t-shirt and socks emblazoned with NASA logos were stashed away nearby. On her desk was the academic planner she carried through two years of classes at WCC, with another NASA logo front and center.
So clearly NASA has been top-of-mind for Seghi for some time. Not that she should be pigeon-holed as only interested in aeronautics and space travel. Before being selected for the NASA program, her end-of-summer goal was to learn the computer programming language Python and use it to develop her own app that would assist with another hobby —learning different languages. She has independently studied Mandarin Chinese for four years and Japanese for six years.
Being consistently challenged and busy is a way of life for Seghi, who is a past president of the WCC Out Space Club and was deeply involved on campus in multiple other student clubs and organizations, as a chemistry peer tutor, and working in the college's Writing Center[BROKEN LINK].
"Being involved in all those things really exposed me to a lot of different walks of life, expanded my world view and made me more interested to see what's out there in the world," Seghi said. "My time at WCC just means so much to me."
Seghi says her disparate interests "all come together in the grand scheme of things. Just because I want to become a STEM professional, that doesn't mean there's not a lot more out there to learn."
Like, perhaps, law? She seems to be naturally adept when she jokingly stops an interview to mitigate future liability: "I just want to make sure everybody knows I am not condoning kids climbing onto their roof. Stay on the ground and look up at the sky. That's good enough!"
But reaching for the stars is even better.
Tags: Aerospace Engineering, NASA, Student Success, ousearch_News_2020