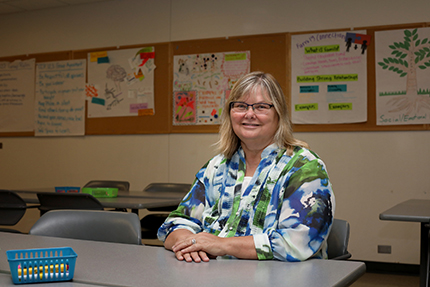 The Early Childhood Education program at Washtenaw Community College is joining an effort spearheaded by the Office of [email protected] to respond to a critical community need for certified child development workers in Eastern Washtenaw County.
The creation of a Child Development Certificate (CDC) Pipeline Program, recently highlighted in an MLive story, will provide community members with an entryway into employment as an assistant or lead teacher at a child development center site.
The pipeline program enables community members to take their Child Development Certificate classes at WCC in pursuit of a Child Development Associate credential, while completing their practicum semester at The Collaborative: Ypsilanti YMCA Child Development Center, a childcare center for low-income residents.
"There's a real shortage of early childhood staff nationwide, so this program is an effort to combat that problem in our community," said WCC Early Childhood Program Coordinator and Faculty Beth Marshall. "It's a great opportunity to not only fill the early childhood workforce pipeline, but to support local children and families while we're doing so."
[email protected] has leveraged pre-existing relationships with local community and government partners such as Michigan Works! Southeast, the Washtenaw County Office of Community and Economic Development, the Ann Arbor/Ypsilanti Regional Chamber and Lake Trust Credit Union to garner the financial support necessary to assist students in their educational goals.
By reducing the financial barrier to education, the pipeline program provides an opportunity for community members, including high school students from Ypsilanti Community Schools and residents served by the Family Empowerment Program residing in the Ypsilanti Housing Commission.
The program involves two semesters of in-person or online courses along with their two practicum experiences. Upon completion of the CDC program at WCC, students have the option to apply for national certification to pursue employment as an assistant or lead teacher at a child development center.
If students are interested, they can also use credits earned at WCC toward an associate degree at WCC and/or a baccalaureate degree in Child and Family Students or Early Childhood Education at Eastern Michigan University.
The Child Development associate degree program at WCC was one of six nationally to be accredited by the National Association for the Education of Young Children in September 2019.
Screenings for the program are being handled by the Michigan Works! Southeast Washtenaw Service Center. To enroll, contact Caroline Sanders at [email protected] or Johnny Epps, of Michigan Works! Southeast Washtenaw Service Center at [email protected].
Tags: Community enrichment, Early Childhood Education, community involvement, ousearch_News_2020