October 5, 2020 Rich Rezler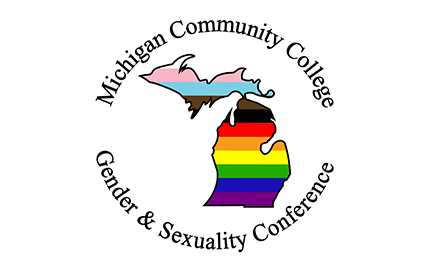 Washtenaw Community College students and staff are hosting the Michigan Community College Gender & Sexuality Conference for the second consecutive year, although the 2020 version will be conducted virtually.
The day-long event is intended for students, faculty and staff from community colleges around the state of Michigan. WCC hosted the a first-of-its-kind on-campus event in 2019 to bring programming and resources typically available only to large university students to the community college level.
Keynote speakers, breakout rooms, "gaymes" and more are scheduled via Zoom from 10 a.m. to 9 p.m. on Saturday, Oct. 17. More information and registration for the free event is available at wccnet.edu/announcements/gender-and-sexuality-conference.php.
"The big difference this year obviously is putting together a conference in a virtual setting, which dominated my entire summer thinking," said WCC Outspace+ Club president Latitude Brown, the primary organizer of this year's event. "It's been a lot of work, but at least I'm able to contact people from the comfort of my bedroom."
Brown was inspired by attending the MBLGTACC 2020 conference – the largest and oldest conference for queer and trans+ college students in America – in Kalamazoo this February. However, while putting together the agenda for Michigan Community College Gender & Sexuality Conference, Brown focused on finding speakers who understand the unique situation that the LGBTQIA+ population faces at community colleges.
"Most people presenting have either attended WCC or grew up in the area, so they're familiar with it," said Brown, an Ann Arbor native pursuing a Programming in Java Associate in Science degree with plans to transfer to Eastern Michigan University or the University of Michigan. "Our big name is Lillian Karabaic, who is based in Portland and hosts a popular podcast called Oh My Dollar! She went to a community college in Oregon."
Karabaic's workshop will focus on "how to budget without freaking out."
Other presenters include Carta Monir on her wildly popular zine, Napkin; Atticus Q. Redghost on creating monsters as a way to process the world and exploring the self; d.h. croasdill on how to play tabletop roleplaying games in subversive, antiracist and explicitly queer ways; Latitude Brown on what intersex is; and Catherine Mullalond on yoga you can do anytime.
Mary Mullalond, a WCC English and Composition instructor and the faculty advisor to the Outspace+ student club, said she "couldn't be more proud and impressed" by the work the club has put into the conference over the last six months.
"The Outspace+ students have been incredibly resourceful and creative during this pandemic. They fully moved all club activities to a Discord server, where students connect and support one another 24/7," Mullalond said. "Latitude Brown's leadership in organizing this conference is a testament to their vision and activism to continue to support not only our WCC queer students, but queer community college students throughout Michigan."
Tags: Conference, Gender and sexuality, Student Organizations, ousearch_News_2020