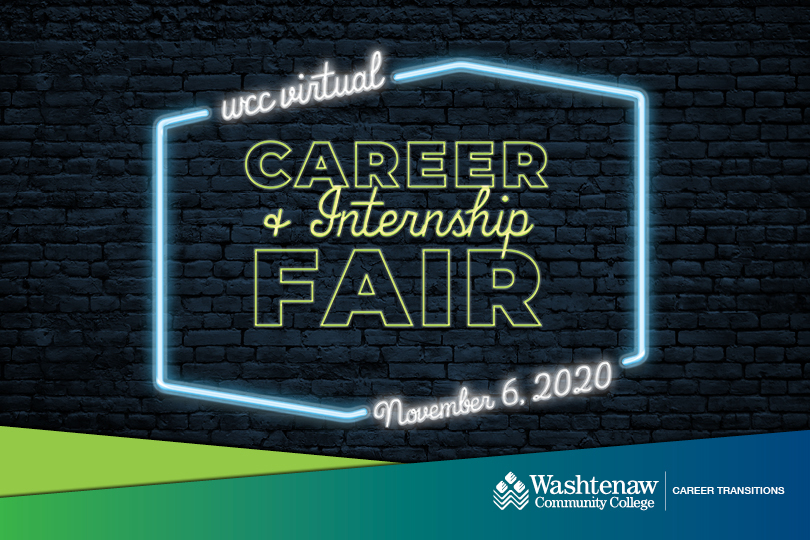 The Washtenaw Community College Career Transitions department isn't letting a pandemic interfere with its quest to find people jobs and introduce local organizations to their future workforce.
While on-campus events are prohibited at WCC at this time, the department's annual WCC Fall Career and Internship Fair will still take place virtually on Friday, Nov. 6, and is expected to include representatives from an estimated 60 employers, many looking to immediately fill current job opportunities. The event is free and open to the public.
This virtual job fair event will be hosted on the Brazen platform and is made possible thanks to the Michigan Department of Labor and Economic Opportunity's Office of Employment and Training.
The WCC Fall Career and Internship Career Fair will be held from 9 a.m. to 12 p.m. and 1 to 4 p.m. on Friday, Nov. 6 online. Registration is available for the morning and afternoon sessions at wccnet.edu/careerfair.
Confirmed employers to date include Amazon, State of Michigan, Zingerman's, University of Michigan and Michigan Medicine (see the complete list at wccnet.edu/careerfair.)
"When the pandemic hit in the spring, we had no idea that we would not be able to host our career fair on campus like we were accustomed to doing. Once we realized that was the case, we immediately started investigating our options." said Cheryl Harvey, Director of Career Transitions. "We learned a virtual career fair was the best platform for connecting our students, alumni and community members to hiring employers in the area. Everyone can now meet recruiters from the safety of their homes. We are so excited about this event."
The WCC Career Transitions department hosts a variety of events throughout the year. In addition to general career fairs in the spring and fall, the college hosts events for niche areas such as advanced manufacturing, business and health care.
Tags: Career Fair, Center for Career Success, ousearch_News_2020