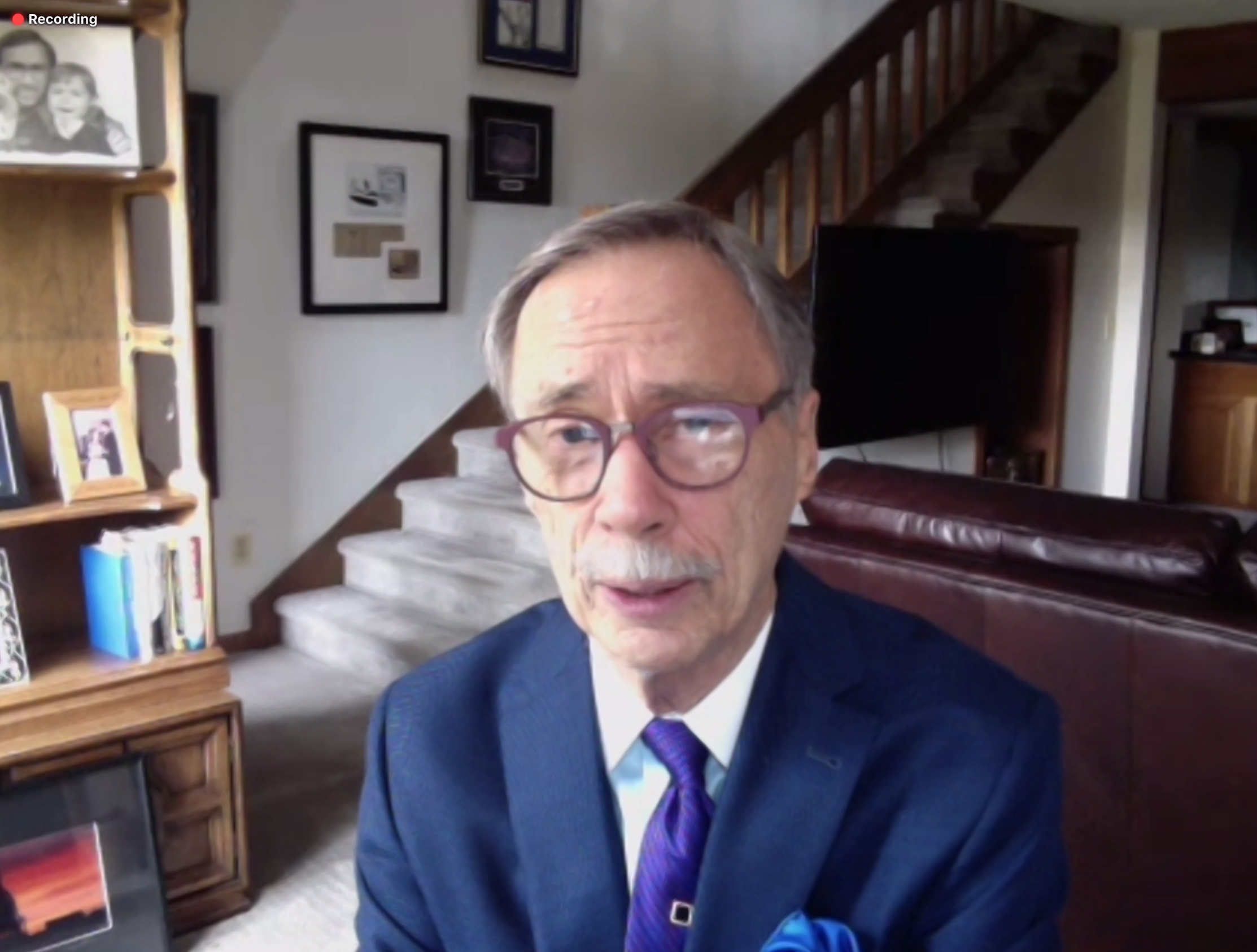 So what happens when you host a discussion about the results of a recent election, but those results aren't yet definitely decided? If you're senior Michigan capitol correspondent Tim Skubick, you do so in typical fashion – with flair and a dry wit.
Skubick was the featured speaker at the Washtenaw Economic Club's virtual event, "What Happened on November 3: An Insider's Look at the Election Results and their Impact on You." The political reporter for WJBK-TV and WWJ NewsRadio 950 in Detroit, WLNS-TV6 in Lansing and host of the weekly public television series Off The Record is a frequent and popular post-election Washtenaw Economic Club presenter.
Skubick introduced himself on the Zoom videoconference as "coming to you live from the Skubick Family Basement," and started the presentation by saying, "I'd like to welcome to our show all the hackers from Russia and China and thank them for participating in our democracy."
While his humor makes Skubick an engaging speaker, his political knowledge is his calling card.
With the national Presidential election still not decided as Skubick began his presentation at 11 a.m. on Thursday, he spent the first portion of his talk discussing his thoughts on how Joe Biden was able to win Michigan back from Donald Trump. "At the end of the day, Mr. Trump may have made one fatal flaw, which was telling Republicans not to participate in absentee ballots," he said as part of that conversation.
Skubick also discussed the Michigan U.S. Senate race between incumbent Democrat Gary Peters and Republican challenger John James, his thoughts on the Electoral College and voter turnout, the inaccuracy of political polling and bi-partisanship, among other topics brought up during the Q&A-heavy discussion with Washtenaw Economic Club members and other attendees.
One notable attendee who signed up to hear Skubick's perspectives was called upon to make some opening remarks: U.S. Congresswoman Debbie Dingell shared her thoughts on the election:
"We just had the highest number of people that ever voted in the history of our state, and that matters," Dingell said. "It's also a time for us to come together – united we stand, together we fall – we have far more in common than what divides us."
With the theme of the meeting being the recent election, event host WCC President Dr. Rose B. Bellanca took the opportunity to congratulate three electoral winners: Washtenaw Community College Board of Trustees members Dave DeVarti, Christina Fleming and Ruth Hatcher. Each won six-year terms as incumbents.
"I'd like to thank them for the time they devote to the college and their willingness to serve the college for another six years," Bellanca said.
This event was the last in the Washtenaw Economic Club's 2020 speakers series. WCC Associate Vice President Brandon Tucker closed the meeting by announcing the 2021 lineup, which will be supplemented with additional topics throughout the year:
MARCH: "Washtenaw County Economic Forecast," with University of Michigan economists Gabriel Ehrlich and Donald Grimes
MAY: "The Future of Mobility," with State of Michigan Chief Mobility Officer Trevor Pawl, auto industry analyst Michelle Krebs and WCC Advanced Transportation Center Director Al Lecz
SEPTEMBER: "Starting From Scratch: The Evolution of a Local Business to a Global Enterprise," with Bartech Workforce Management Vice President David Barfield
NOVEMBER: "The Impact on the Economy and Workforce," with McKinley Properties co-owner and managing member Albert Berriz
For information about Washtenaw Economic Club membership, visit wccnet.edu/economic-club.