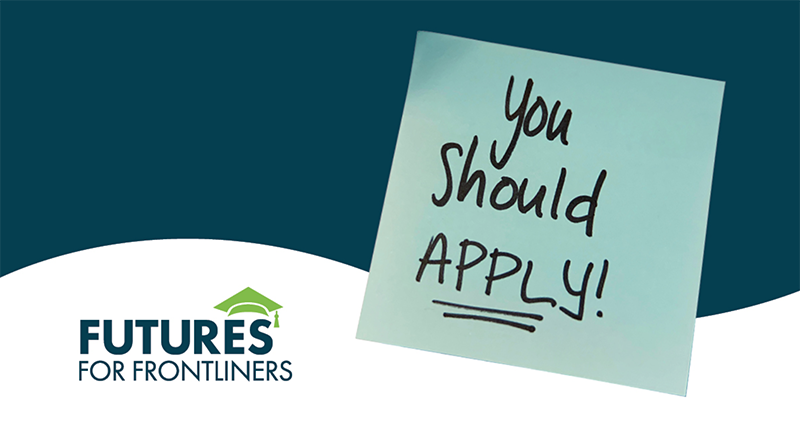 Essential workers using state-funded Futures for Frontliners scholarships at Washtenaw Community College can capitalize on an additional scholarship opportunity to continue their education at Eastern Michigan University.
"While Futures for Frontliners scholarships can only be used at two-year colleges, we're excited to share news that will make it easier for those essential workers to pursue a bachelor's degree after earning an associate degree at WCC," said WCC Vice President for Instruction Dr. Kimberly Hurns. "We have partnered with Eastern Michigan University to provide additional scholarship funding to Frontliners who plan to transfer to a four-year university after graduation."
Frontliners who enroll at EMU after receiving an associate degree from a partner community college and are Pell Grant-eligible will receive an EMU Frontliner Scholarship to cover the remaining tuition balance. A Pell Grant plus the EMU Frontliner Scholarship will cover the full tuition cost for up to 12 credit hours per semester for five consecutive semesters.
Frontliners who enroll at EMU and are not Pell eligible will receive an EMU Frontliner scholarship of $5,000, which will be divided into increments of $1,250 for four consecutive semesters (Fall and Winter only).
More information on the EMU Frontliners Scholarship is available on the university's website.
Futures for Frontliners is a scholarship program for frontline workers run by the state of Michigan. The scholarship provides eligible students with free tuition to Washtenaw Community College to earn your associate degree or certificate when enrolled in a financial aid eligible program.
Applications for the program must be received by the state of Michigan before the December 31 deadline. More information, eligibility requirements and an application are available at Michigan.gov/frontliners.
Since the program launched in early September, approximately 100,000 essential workers have applied and will soon be working toward an associate degree or skills certificate.
"Our frontline workers put their lives on the line every day to provide crucial support to our families during this pandemic, and they deserve support long after this crisis is over," Governor Gretchen Whitmer said in a statement.
"That's what the Futures for Frontliners program is all about. I encourage everyone who is eligible to take advantage of this free path to a degree or skills certificate they've been dreaming about. This initiative is not only a way to say, 'thank you,' it's an opportunity to provide a pathway to better paying jobs."
Tags: Eastern Michigan University, Futures For Frontliners, Scholarships, ousearch_News_2020