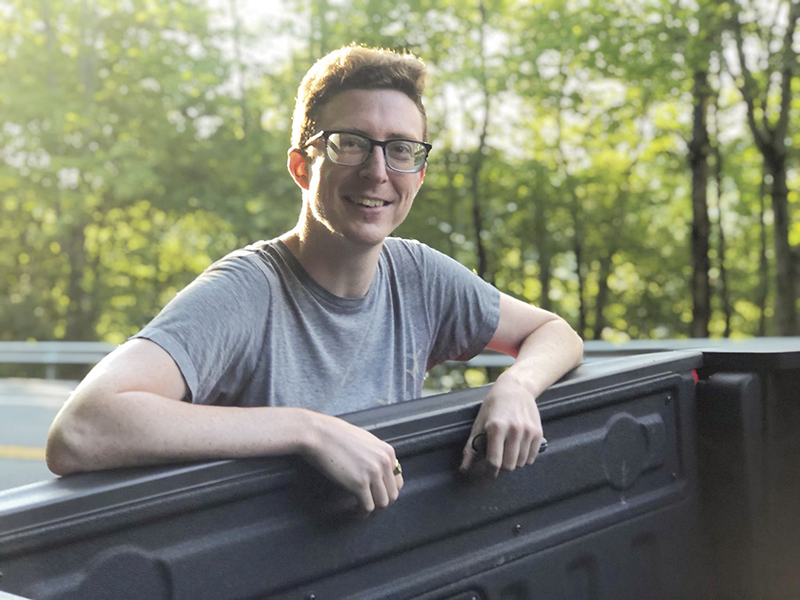 Washtenaw Community College graduate Carl Vitullo describes his high-tech job in Brooklyn, New York, as "wearing a lot of hats."
The 28-year-old software developer, who grew up in Ann Arbor, credits WCC for helping to prepare him for his current position — engineering manager and front-end developer for Stellar Development Foundation.
It's a big and important job in which Vitullo and his team work with cryptocurrency, helping ensure that financial institutions can securely move digital transactions anywhere in the world.
"I'd say it was mostly on-the-job/self-directed learning that got me there, but I had the fundamentals from WCC that put me in a good place to learn the specifics as I encountered them," Vitullo said.
Vitullo graduated from WCC in 2013 with two associate degrees (Information Systems: Programming in C++ and Occupational Studies), a certificate (Liberal Arts Transfer) and an advanced certificate (C++ Programming).
"My team and I build web apps," he said. "Most of my day is writing code or breaking down projects into work that can be delegated to others on my team. I need to deeply know code standards, testing, automation, communication, technical writing. Engineering management means wearing a lot of hats."
But he hasn't forgotten his educational roots. A recent email from the WCC Foundation that struck a chord with Vitullo.
He was moved by the request to contribute to the foundation's Student Emergency Fund for students in need of assistance, especially as they navigate through the unprecedented and life-altering COVID-19 pandemic.
"Looking back, I really enjoyed my time at WCC," Vitullo said. "Making a contribution was the least I could do."
Vitullo's check for $1,000 will help the WCC Foundation provide assistance to students experiencing emergencies and unexpected financial challenges, such as food shortages, paying utility and medical bills and meeting transportation needs.
Vitullo describes taking a "rather unique path," as he calls it, to where he is today.
"Not a great student" in his younger years, he blossomed when his parents enrolled him at WCC's charter high school, Washtenaw Technical Middle College (WTMC).
While at WTMC, Vitullo took classes that also earned him college credits. He enrolled at Michigan Tech University as a sophomore, but said the Upper Peninsula school wasn't for him, so he returned to WCC.
Tags: Alumni Profile, Business and Computer Technologies, December 2020, On The Record, ousearch_News_2020, ousearch_News_On The Record