William G. Milliken Jr. was elected as chairperson of the Washtenaw Community College Board of Trustees by fellow members of the board at its annual organizational meeting on Tuesday, January 26.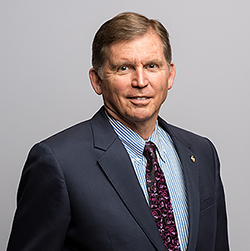 WCC President Dr. Rose B. Bellanca applauded the selection, saying Milliken's "extensive professional experience, combined with his dedication to the college's mission, makes him an excellent choice for this leadership role. I look forward to working with Bill, all the other new officers and the entire board."
The other trustees appointed to two-year leadership positions include Angela Davis as vice-chair, David DeVarti as treasurer and Ruth Hatcher as secretary. Dr. Richard J. Landau, Diana McKnight-Morton and previous chair Christina Fleming make up the remainder of the Board of Trustees. McKnight-Morton (2017-18) and Landau (2015-16) also previously served as board chair.
The board members are unchanged from 2020 after DeVarti, Hatcher and Fleming were re-elected to their six-year appointments in November 2020.
"I'm honored to be named chair of the WCC Board of Trustees and look forward to overseeing the process of setting the policies that will continue to enable WCC faculty and staff to provide all of our students with the best possible learning environment," said Milliken.
When Milliken first ran for election to the WCC Board in 2016, he did so with considerable previous interest and experience in advocating for educational excellence and workforce development. Running his own Ann Arbor-based business, Milliken Realty Co., prepared him to take on the board's role of financial oversight.
Milliken currently sits on the executive committee of the National Association of Realtors and is a former president of the 30,000-member Michigan Realtors.
Along with previously serving on the WCC Foundation board of directors, Milliken has an extensive history of community involvement as director of the CCIM Foundation, a board member of New Detroit and a founding director of Ann Arbor SPARK. Last year, Governor Gretchen Whitmer appointed Milliken to a six-year term on the Mackinac Bridge Authority.