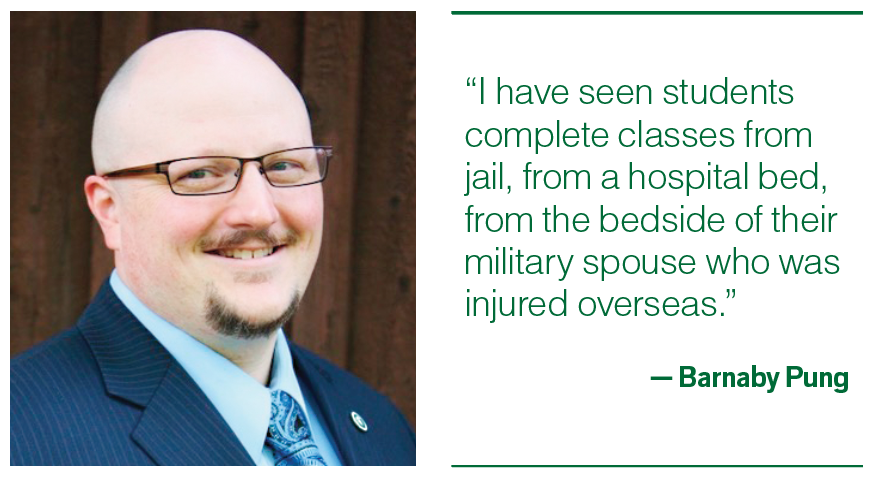 It was hard to say who was more surprised when then-high school senior Barnaby Pung received an acceptance letter from Harvard University: Pung himself or his parents.
Pung, now a part-time instructor of Academic and Career Skills (ACS) at Washtenaw Community College, recalled how the famous Ivy League school came calling.
"My friends and I decided we would indicate one 'famous college' on our PSAT," Pung said. "I was totally surprised when Harvard sent me a letter indicating their interest in my application. My parents were doubly surprised because they didn't know I had put down Harvard on my interest forms."
But Pung, involved in the National Honor Society and theater while at St. Johns High School near Lansing, showed he was no slouch in math.
Western Michigan University was his choice after doing the numbers. Through academic scholarships he had earned, WMU's tuition was nearly 100 percent covered.
"One year at Harvard after scholarships was a little over four times the cost of WMU," he said. "I sometimes wonder though, knowing what I know now, might it have been worth it in terms of social and cultural capital (to attend Harvard)? Hard to say."
At Western, Pung earned a bachelor's degree in English Education and started teaching English, history, government and economics at Schoolcraft High School. After a couple of years, he left to work on his Master of Science in Library Science degree at the University of Kentucky. He completed a Ph.D in Higher, Adult and Lifelong Education from Michigan State University while working in higher education student affairs.
Guiding students along career paths clearly motivates Pung. He can tick off the names of former students who have landed good jobs after taking his classes.
As he was finishing his doctorate, he started a full-time position with MichiganWorks! through WCC at the Harriet Street Center in Ypsilanti.
Both there and on campus, he teaches career prep, employment readiness and ACS classes.
"My favorite part of this role was to be able to see immediate, tangible results for students," he said. "I had a student who had worked for the same family business for 30 years, since he was in high school.
"Unfortunately, the family sold the business to a franchise and the franchise let him go because he didn't have a degree.
"I helped him make his first resume and identify some places to look for work and strategies for connecting with potential employers.
"Within two weeks, he had an interview and we prepped for that. Two weeks later he had an offer and ended up making more money than he had at his previous job, with better benefits and retirement."
Pung said he especially loves working with international students and for those for whom English is a second language.
He cited one young student who spoke very little English but was determined to earn a degree to better support her mother, who had been diagnosed with breast cancer.
"I have seen students complete classes from jail, from a hospital bed, from the bedside of their military spouse who was injured overseas," Pung said.
"My job is to serve as a resource and advocate to connect them to the support they need and to be flexible when life happens. To ensure that there is a path for success if they are willing to walk it and that sometimes success is taking a break and coming back next term when a storm has passed.
"The resilience of our students, especially our adult learners, is inspiring and I am happy to be part of their journey."
Tags: Academic and Career Skills, Faculty Profile, February 2021, GED, On The Record, ousearch_News_2021