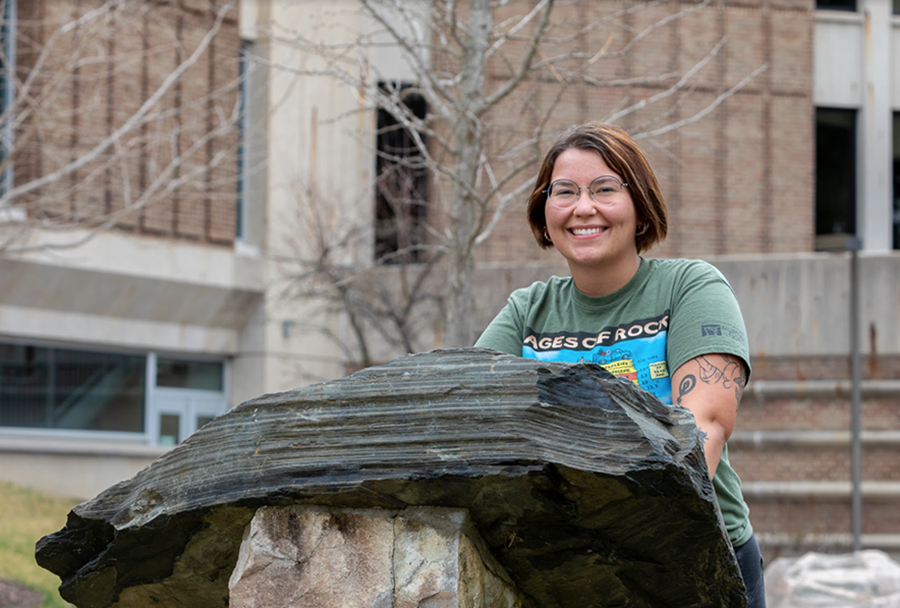 When temperatures hit their peak in Michigan this summer, Sabrina Lanker won't be headed toward the state's 3,200 miles of freshwater shoreline.
She's off to the Arctic Circle.
Between wrapping up her time at Washtenaw Community College and beginning classes at the University of Michigan in the fall, Lanker is participating in a National Science Foundation Research Experience for Undergraduates (REU) in Sisimiut, Greenland.
Lanker is keenly aware she'll be missing a big stretch of Michigan summer while conducting on-site field research from July 12 to August 12.
"I'm not a huge fan of hot weather," she said. "It'll be jeans and a hoodie weather every day, which is the best weather for me."
Lanker is a huge fan of geology. She took most of the geology courses WCC offers on her way to earning a General Studies in Math and Natural Sciences associate degree in December. She's completing a few more transfer courses this semester before heading off to study Earth and Environmental Science at Michigan in hopes of one day performing field work for the National Park Service or the U.S. Geological Survey.
Up first is the Arctic REU, where she'll join other undergraduate students to study how earthquake ruptures propagate through bedrock in the deeper reaches of Earth's crust.
Lanker is the only community college student chosen to participate in the experience, which was her top choice of the multiple internship opportunities for which she applied.
"Community colleges don't get as much praise as four-year universities, but you can have just as many experiences and opportunities," said the 21-year-old Whitmore Lake resident. "You get what you put in. I turned WCC into the best thing in the world for me. You can just go to class and then go home, or you can turn it into a great experience."
Lanker started her academic pursuits at WCC not knowing exactly what she wanted to study. She considered being a science teacher, primarily because of the positive influence Pinckney High School teacher Penny Ventrone — also a part-time instructor at WCC — had on her. It was Ventrone, in fact, who first encouraged Lanker and some classmates to consider WCC.
But a geology class intended for future teachers (GLG 202: Earth Science for Elementary Teachers) piqued Lanker's interest.
"I ended up loving geology way more than I loved education, so I changed my major and associate degree path," she said.
With a course of study determined, Lanker maximized her time at WCC by participating in the college's STEM Scholars program, founding a Spanish conversation club, serving as a vice president of the Phi Theta Kappa honors society, contributing to the Campus Vote Project and working part-time jobs in the Student Activities department and at the WCC Health & Fitness Center.
Being in the STEM Scholar program – which encourages, supports and facilitates success for students interested in STEM careers – brought the National Science Foundation internships to Lanker's attention.
"I'm excited to gain the skills and knowledge about what happens in the day-to-day life of a geologist," Lanker said. "I also want to reassure myself this is really what I want to do. Is this what I want to do for the rest of my life? Or maybe there's a different part of geology that's a better path for me?"
Tags: April 2021, Class of 2021, Geology, Internship, On The Record, STEM Scholars Program, Student Success, ousearch_News_2021