May 11, 2021 Fran LeFort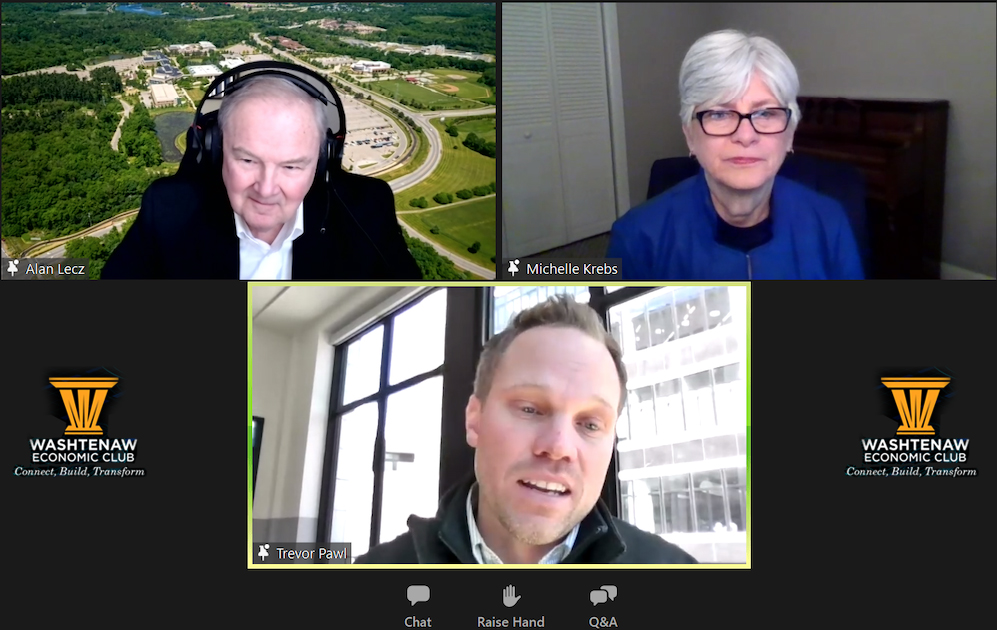 Michigan will need about 12,000 workers to keep its position as a global mobility leader in the decades to come, and supporting educational institutions and workforce development to match the technology innovations will be crucial, according to the state's chief mobility officer.
A look toward the "Future of Mobility" was hosted Tuesday by the Washtenaw Economic Club. The nonprofit Washtenaw Economic Club is a special program operated within Washtenaw Community College since 2010.
Trevor Pawl, the State of Michigan's Chief Mobility Officer, joined Michelle Krebs, Director of Automotive Relations at AutoTrader.com and executive analyst for Cox Automotive in Detroit, as guest panelists for the virtual discussion attended by about 75 business and community leaders from around the county.
Future mobility-related jobs will be wide ranging, including maintaining electric and autonomous vehicles, installing electrical charging equipment and developing batteries and chips, they said.
"Where are the jobs we can still retain and what are some of the new jobs? Maybe the future of the truck driver isn't driving one truck but 10 trucks autonomously," said Pawl, pointing out that retaining homegrown talent applies to both start-up companies as well as big corporations.
As innovation and technology around mobility evolves, "it ultimately will lead to a world that Michigan still leads, but we need to focus on it now." The year 2030 is a line of demarcation recognized by many, he said.
With electrification as a first step, Krebs said, "we are in the stagecoach stage of this kind of evolution," to be followed with more autonomous mobility innovations.
"We need to focus on a different kind of worker and need to focus on what to do with workers who might be displaced," said Krebs, who emphasized the importance of "upskilling and retraining" in support of electric vehicles.
Al Lecz, Director of the Advanced Transportation Center (ATC) at Washtenaw Community College, guided the conversation as moderator. The ATC was established to meet the rapidly developing needs of transportation and mobility manufacturing professionals who must stay up-to-date, innovative and compliant.
At any given time, an average of 1,000 students are enrolled in WCC's mobility-related courses, said college President Dr. Rose Bellanca.
WCC is the only community college participating in the Center for Connected and Automated Transportation (CCAT), a U.S. Department of Transportation-funded program created at the University of Michigan and includes WCC, Purdue University, the University of Illinois, the University of Akron and Central State University.
The center aims to advance research in the field of transportation safety, mobility and sustainability via connected vehicles, connected infrastructure and autonomous vehicles and has allowed WCC to develop new courses to train technicians, engineers and entrepreneurs who can serve as leaders in the world of mobility.
"Beyond hosting events like this "Future of Mobility" panel discussion, WCC is very involved in creating that future right here in southeastern Michigan, which is the epicenter of this industry," Bellanca said.
Tags: Advanced Transportation, CCAT, Mobility, Washtenaw Economic Club, ousearch_News_2021