August 18, 2021 WCC Communications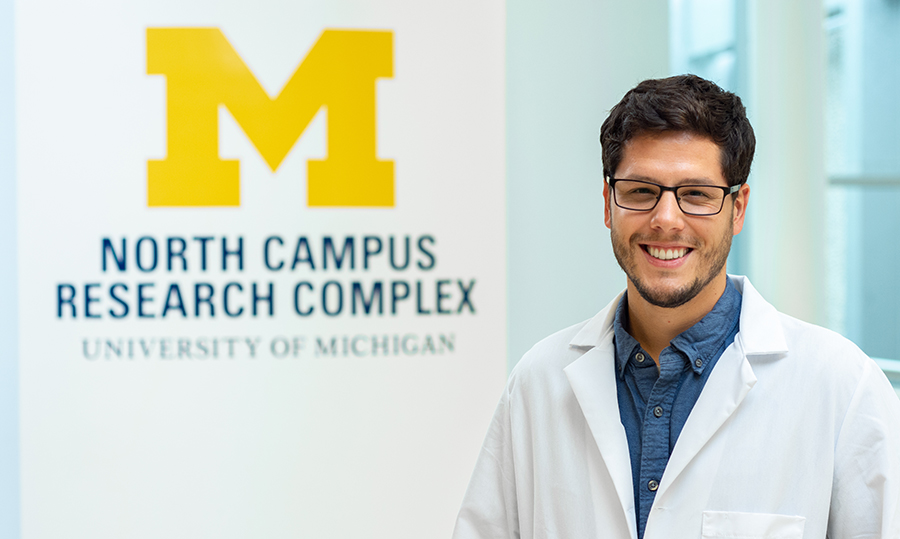 When Dan Tyrrell goes to work each day, he dons a white lab coat, puts on latex gloves and studies genes.
More specifically, he examines genes in mice, hoping to find keys to ridding the human body of atherosclerosis, a buildup of plaque in the arteries that can cause heart attacks.
As for the work, "I really love it," he says. "I've always been interested in science."
And the educational journey to this rewarding career began at Washtenaw Community College, where he earned a General Studies in Math and Natural Science associate degree, with honors, in 2008.
Why WCC? "I always knew I wanted to go to college," the Milan High School graduate said, "but I didn't want to take on a lot of debt."
So, with WCC's affordable tuition and an academic scholarship to boot, Tyrrell was able to earn a degree without the burden of student debt. It turned out to be the first of multiple academic degrees and scholarship grants he's received over the years.
After WCC, Tyrrell earned a bachelor of science degree in Kinesiology from the University of Michigan and then a Ph.D. in Integrative Physiology and Pharmacology from Wake Forest University.
He's currently a Postdoctoral Research Fellow at the University of Michigan Medical School, with a research focus on the biological mechanisms of cardiovascular aging.
The 32-year-old married father of two young children is quick to credit WCC for his academic start in science.
In a recent social media post, he joined other successful members of the medical community who credited community colleges for their successful transfers to four-year colleges and universities.
"Second that," he wrote. "Shout out to my alma mater, @washtenawcc."
Beyond the cost savings, another big benefit of starting at WCC, Tyrrell says, is taking pre-requisite physics and biology courses in a classroom with 30 students rather than a giant lecture hall with 300 or more.
"I didn't feel I was behind when I went to U-M," he said.
As for his current research, the work is also personal. When he was at Wake Forest, his father died of a heart attack. It's further motivation for him to keep examining cells, hoping to find clues on how to treat, if not eradicate, heart diseases.
The WCC Fall 2021 semester begins on Monday, Aug. 30, with additional sessions starting September 22, October 6 and October 23. Learn more at wccnet.edu/fall21.
Tags: Affordability, Alumni Profile, August 2021, On The Record, STEAM, Student Success, Transfer