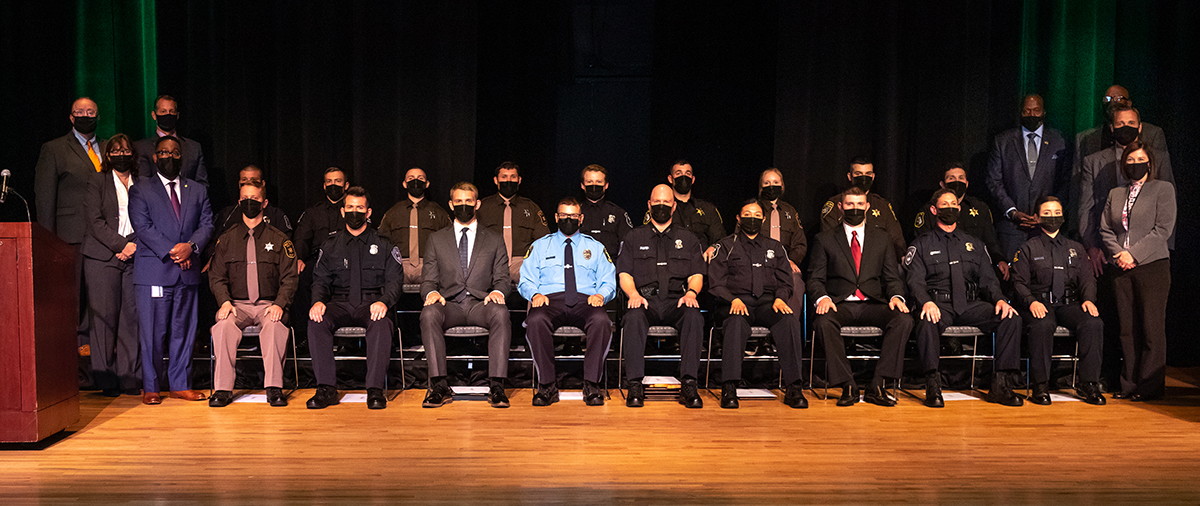 Family, friends and local law enforcement members gathered in Towsley Auditorium Friday afternoon to celebrate the 18-member Washtenaw Community College Police Academy's Class of 2021.
Each of the graduating recruits successfully completed 816.5 hours of curriculum created by the Michigan Commission on Law Enforcement Standards (MCOLES) and the WCC Police Academy Advisory Committee.
RELATED: Graduation Ceremony Photo Gallery
The class is the first to graduate from the WCC Police Academy since it became the first in the United States to achieve accreditation and the first in the world to receive an "Award of Excellence" from the International Association of Directors of Law Enforcement Standards and Training (IADLEST) in January 2021.
"The 2021 graduates are entering into law enforcement at a critical time in history. They are embracing change within the criminal justice system and are eager to be a part of that change," said WCC Senior Director of Public Service Training Joyce VanMeter. "They have shown tremendous dedication and performed well both as individuals and members of a team. We in Public Service Training are exceptionally proud of them and appreciate the opportunity to be a part of their journey."
In her remarks, Police Academy class president Jessica VanBynen spoke of the evolution the class went through since coming together as a group of strangers in May.
"Throughout the next couple months, acquaintances turned to friendships, and those friendships formed one efficient, cohesive and unstoppable team you see sitting here today," she said. "We were reminded constantly that to be successful, we would have to work as a team and I am proud to say we accomplished that task, but also formed a family in the process."
In his keynote address, Washtenaw County Sheriff Jerry Clayton spoke openly about the recruits becoming law enforcement personnel during a tumultuous time in history.
"Now is the time when you all are needed most. Now is the time when our society is most in need of public servants like yourselves — full of courage, conviction and strength of character. If our country and society are going to heal, if our communities and families are going to recover and feel protected, we need individuals like the graduates here today, willing to put in the hard work, willing to protect, willing to engage and help make the quality of life better for all that we serve," Clayton said.
"You are choosing to be the change everyone talks about and say that they want. You are putting your actions where your values are. Each of you can represent the best of our society and you should always take pride in that knowledge and conduct yourselves accordingly. I am proud of all of you and the accomplishments that have led you to this point. I respect and salute you and your choice to become a part of our noble profession."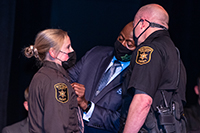 Clayton served double duty at the event. Along with his keynote address, he was later one of the current law enforcement professionals called upon to pin badges on the recruits joining their respective agencies.
At that moment, Clayton went from being a guest speaker to the new boss of VanBynen and fellow academy graduates Evan Bellas, Sean Mace and Ben Siller.
Those four new Washtenaw County Sheriff's Department deputies were among seven members of the class who joined as in-service recruits, meaning they had secured employment and were sent through the police academy by their department. Others include:
Steven Francoeur, Northfield Township Police Department
Richard Jacobs, Auburn Hills Police Department
Emily Sovlansky, Westland Police Department
Of the 11 graduates who entered the academy as a pre-service recruit, meaning they started without already being hired by an agency, nine of them finalized employment during training. They include:
Vincent Chandler, Royal Oak Police Department
Daniel Evanoff, Lansing Police Department
Rosaura Gonzalez, Farmington Hills Police Department
Aaron Lassila, Howell Police Department
Trevor Lossos, Novi Police Department
Evan Teed, Farmington Hills Police Department
Andrew Thyrion, Lenawee County Sheriff Department
Thomas Wever, Livingston County Sheriff Department
Hayden Williams, Livingston County Sheriff Department
Pre-service graduates who are finalizing their employment include:
Joshua Edwards
Matthew Hurley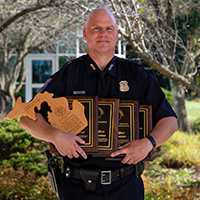 In a class full of primarily 20-somethings, it was 49-year-old academy graduate Steven Francoeur who walked away with an armful of hardware during the graduation ceremony.
A former Biology professor at Eastern Michigan University, Francoeur accepted an early retirement package and decided to pursue a second career in law enforcement — a field that his father served for 30+ years.
Francoeur won five of the eight awards announced, including the MCOLES Outstanding Recruit Award. Others included the High Academic Average Award, the Emergency Vehicle Operation Award, the Firearms Excellence Award and the Subject Control Excellence Award.
Joshua Edwards won the Physical Fitness Excellence Award and the 'Train Like Troy' Award, which honors the legacy of Troy Stern, a long-time academy instructor who died of cancer in 2019.
Rosaura Gonzalez won the Firearms Instructor Award.
Graduate Sean Mace received the honor of being selected by his class to read the Law Enforcement Code of Ethics.
Tags: Advanced Technologies and Public Services Careers, Awards, Graduation, Police Academy