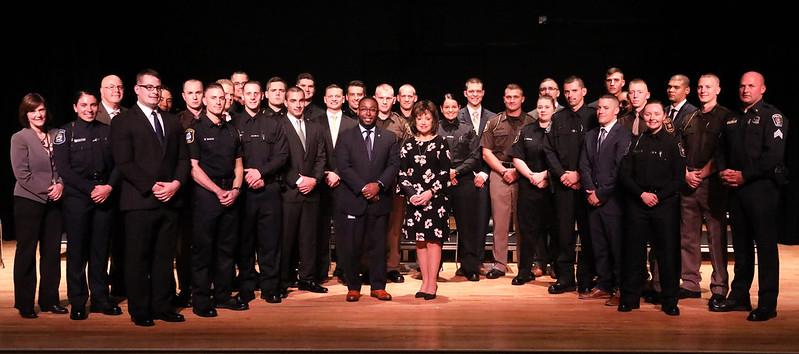 The Police Academy operated by Washtenaw Community College is the first in the United States to achieve accreditation and the first in the world to receive an "Award of Excellence" from an international non-profit organization dedicated to transforming policing by promoting excellence in training and professional standards.
The International Association of Directors of Law Enforcement Standards and Training (IADLEST) recently informed WCC Senior Director of Public Service Training Joyce VanMeter that the WCC Police Academy achieved accreditation with a weighted score of 109.2% across 52 standards over a demanding, three-year evaluation process.
IADLEST, which has accredited academies in Europe and the Middle East, had never previously awarded a score over 92% -- the minimum requirement necessary for its Award of Excellence status.
"We are very proud of the WCC Police Academy — this elite accreditation by a preeminent accrediting body validates the amazing work and leadership of our team," said WCC President Dr. Rose B. Bellanca. "This was a rigorous and meticulous assessment of our program by a highly respected organization. We're grateful for all those who work so hard every day to deliver such an exceptional program, training tomorrow's law enforcement officers."
RELATED: Class of 2020 graduation story and photo gallery
Being accredited by IADLEST isn't required of police academies in Michigan — that mandatory approval comes from the Michigan Commission on Law Enforcement Standards (MCOLES). Rather, WCC Police Academy leadership viewed this accreditation process as an opportunity to make sure it was performing at the highest possible level.
"The whole purpose for undertaking this accreditation process is that we wanted that higher level of inspection of every one of our processes," said VanMeter. "It was imperative to get IADLEST's stamp of approval that we not only meet – we exceed – their best practice recommendations on a global level."
VanMeter praised the effort of WCC Assistant Director of Public Service Training Jon Haupt, who was primarily responsible for working with IADLEST and its assessors since joining WCC in December 2019.
"We're trying to be the best. That's what we stand for and that's the standard of professionalism that gravitated me toward working at WCC and with Joyce," said Haupt, who retired from the Farmington Hills Police Department after 27 years of service. "To me, that's what earning this award represents – that we're working at the highest level we can. Our goals are to absolutely have the best-trained instructors and that all of our systems are top-notch."
VanMeter said she was familiar with IADLEST's stellar reputation and dedication to law enforcement training before the organization began accrediting academies. Knowing it would provide best-in-class evaluation, she made sure to have the WCC Police Academy among the first to go through the process. More than 50 areas of agency operations are graded in the final report, including statutory and regulatory compliance, training development and assessment, and operations among others.
Former Assistant Director of Public Service Training Troy Stern led the initial accreditation efforts until his death in August 2019. The former Tecumseh Police Chief and beloved long-time WCC Police Academy instructor was 48 years old.
Despite the change in leadership, the WCC Police Academy was still the first in the United States to complete the demanding accreditation process. A ceremonial award presentation is tentatively planned to occur at the IADLEST annual conference in Fort Worth in May.
"Troy put the foundation in place and the baton was handed to Jon," VanMeter said. "We have a motto in the Police Academy: "Train Like Troy." If we continue to do everything to the standards he had, we're going to be doing a damned good job."
---
WCC's Spring Police Academy 2021 is scheduled to be held from May 10 to September 10, 2021. More details, the application process and contact information is available online.
Students are either in-service recruits, meaning they have secured employment and are sent through the academy by their department, or pre-service recruits, meaning they enroll in the academy prior to being hired by an agency.
Tags: Accreditation, Advanced Technologies and Public Services Careers, February 2021, On The Record, Police Academy, ousearch_News_2021