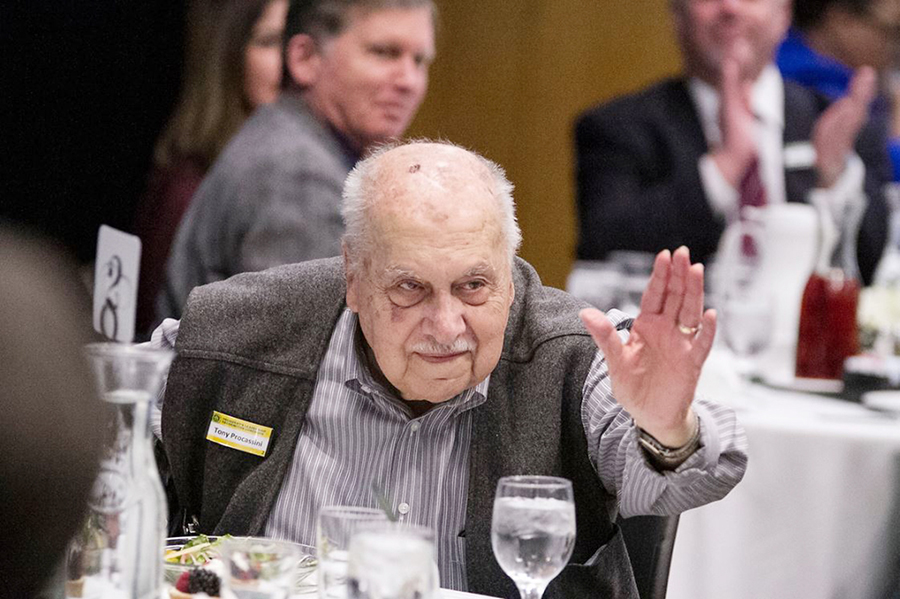 The Washtenaw Community College community is mourning the loss of long-time trustee and college supporter Anthony J. (Tony) Procassini, who died on Friday, Sept. 10 at the age of 100.
"Since Washtenaw Community College was only an idea, Tony Procassini has been woven into the fabric of this institution. He was a driving force behind its formation, served on its Board of Trustees for more than a quarter century, helped establish the WCC Foundation, and was a constant supporter and valued contributor to the WCC mission," said WCC President Dr. Rose B. Bellanca (pictured with Mr. Procassini at right).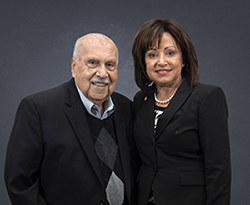 "We send our condolences to his family, celebrate his incredible 100-year life, and will always be grateful for the indelible legacy he leaves at the college and across Washtenaw County."
WCC will host a celebration Mr. Procassini's life at 2 p.m. on Sunday, Oct. 31 in the Morris Lawrence Building. The celebration will also be streamed online via Zoom. (Follow this link to attend.)
Mr. Procassini was one of the key, forward-thinking community leaders who pushed for the founding of a local community college in the early 1960s. He was a member of the Ann Arbor Chamber of Commerce Education Committee, which conducted studies that showed county educators and employers recognized the need to create and sustain a workforce with strong technical skills. Washtenaw County residents would approve the college at the polls, by more than a 2-to-1 margin, on January 15, 1965.
Mr. Procassini then helped guide WCC as an elected member of its Board of Trustees from 1966 to 1992, a run that included seven different one-year terms as board chairperson. In 1993, he was given the Board of Trustees' "Award of Merit," the highest honor given by the college at that time, for his extraordinary contributions to the advancement of WCC and its mission.
"Tony was a dear friend and trusted advisor to literally generations of presidents and trustees of the college. He was a dear friend to me and my family. The college has lost a treasured part of its living history. Tony will be deeply missed," said current WCC Board of Trustees member Dr. Richard J. Landau, whose father, Henry Landau, served alongside Procassini on the board for a number of years.
Hundreds of students have attended WCC in Mr. Procassini's name. Since 1993, each high school in Washtenaw County has received a Anthony J. Procassini Honor Scholarship to be awarded to an outstanding graduate who exhibits leadership qualities and scholastic achievement.
Additionally, Mr. Procassini and his late wife of 74 years, Dawn, established the Anthony Procassini Scholarship Endowment through the WCC Foundation in 1994 and he continued to make donations through this year. That scholarship has provided tuition assistance to more than 75 occupational education students since it was founded.
Born in 1921 in New Jersey, Mr. Procassini came to the Ann Arbor area to enroll at the University of Michigan in 1939, just as World War II was beginning. Before he would graduate, he enlisted in the Marines and was wounded during the Battle of Okinawa. He received the Purple Heart entitled to him for being injured during service in 2019 when he was 98 years old.
Back in Ann Arbor, Mr. Procassini completed his bachelor's degree in psychology at U-M and worked 28 years for the Bendix Corporation before starting his own human resources management firm in 1980. He operated A.J. Procassini and Associates until he retired in 2014 at the age of 93.
Months before he graduated from U-M in 1947, Dawn gave birth to the first of the couple's 10 children. Mr. Procassini is survived by those 10 children – Camille Procassini, Nancy Linebarier (Harvey), Russ Procassini (Karen), Denise Procassini (Mike), Linda Binder (John), Janice Procassini, Janine Fidler (Bo), Tina Johnson (BJ), Lauri Procassini, and Amy Bullard (Stephen) – along with 18 grandchildren and two great-grandchildren.
In lieu of flowers, the family asks to consider a contribution to the Procassini Scholarship at Washtenaw Community College, the University of Michigan Cardiovascular Center research, Arbor Hospice or Veterans of the Game. More information is available in his obituary.
Tags: Board of Trustees, December 2021, Memoriam, On The Record, Tony Procassini