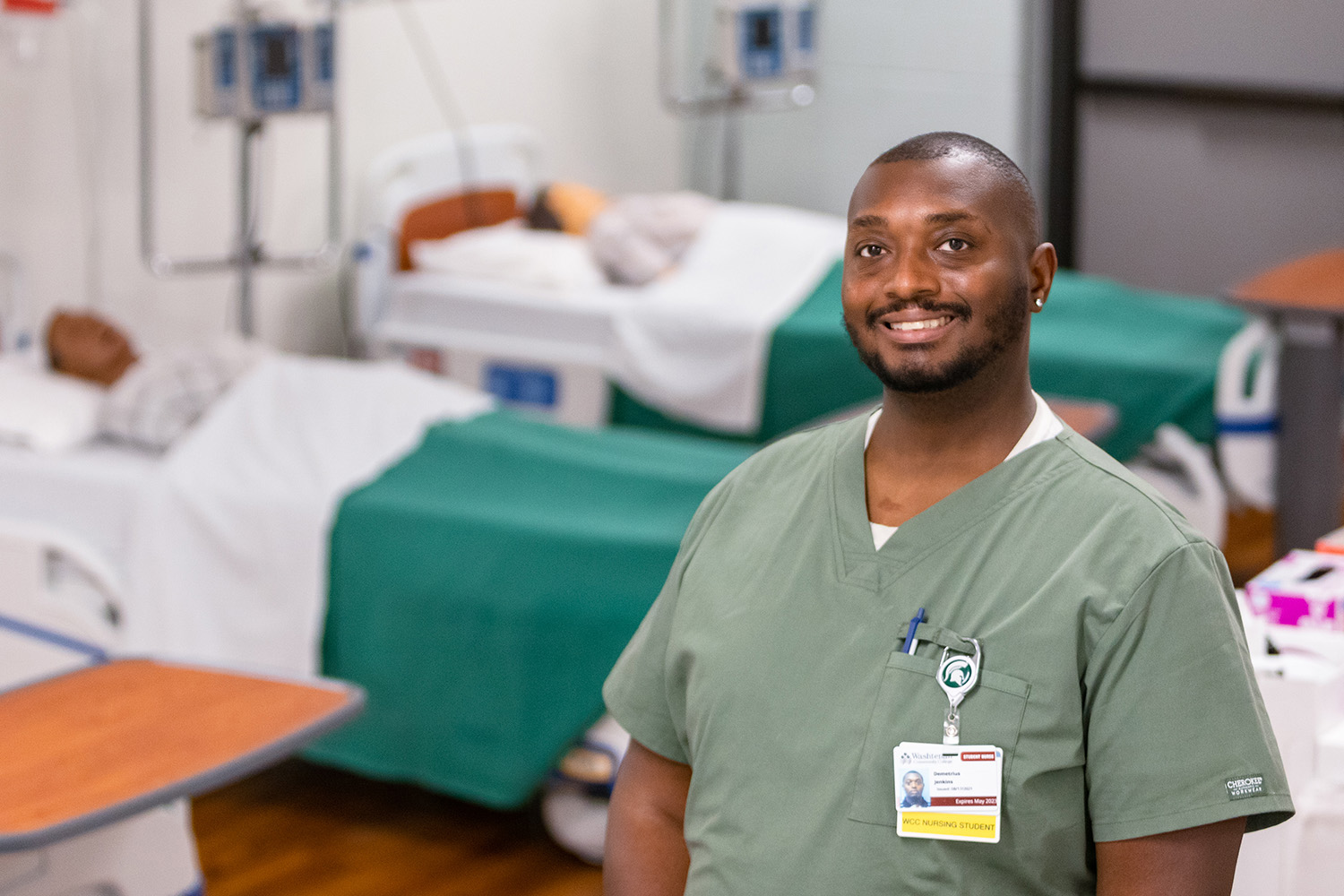 For the past eight years, Demetrius Jenkins has served Washtenaw County as an emergency medical technician while contemplating and researching possible next career steps.
His decision? Nursing.
"I knew for me, (emergency medical services) was not the end-goal," said the first-semester nursing student at Washtenaw Community College. "With the guidance of my nurse friends and my passion for working with patients, nursing was the next step."
Jenkins' decision to return to school to pursue a nursing degree was quickly reinforced by some life-changing events.
Early in 2020, Jenkins lost his younger brother to a battle with addiction. He then lost a close friend to COVID-19 and his family was hit hard by the pandemic with his mother, grandfather and cousin all requiring a hospital stay to help them recover.
"Those things were the drive to make me stay focused on my angle, which is nursing," said Jenkins. "I realized that I love to be involved with patients. For me, it's about advocating for patients – ensuring they are being heard and understanding their treatment plans."
Jenkins, who previously earned an associate degree from Wayne County Community College and a bachelor's degree from Eastern Michigan University, was quick to become involved in campus organizations at Washtenaw. He joined the WCC chapter of the American Association for Men in Nursing and is eager to contribute ideas to promote men joining the field – particularly men of color.
Noting his experience in a fast-paced environment as an EMT, Jenkins would like to work as an emergency room nurse before reaching his ultimate goal of working as a family nurse practitioner in a primary care setting.
When asked about advice he has for others interested in nursing or those about to begin a nursing program, Jenkins had two pieces of advice:
First, he suggests doing plenty of career research. He found talking with those already in the profession was an important factor in determining if the field was a good fit for him. Jenkins also emphasized the importance of having someone to talk to and hold you accountable as a student – whether it be a college advisor or counselor, family member, friend, therapist or classmate.
"One of the things I'm finding is that the only way I'm going to be successful is if I utilize my support system," Jenkins said. "There's a lot of individual accountability that comes with the program. Have someone that will keep you grounded and hold you accountable."
Tags: December 2021, Men in Nursing, Nursing, On The Record, Student Profile