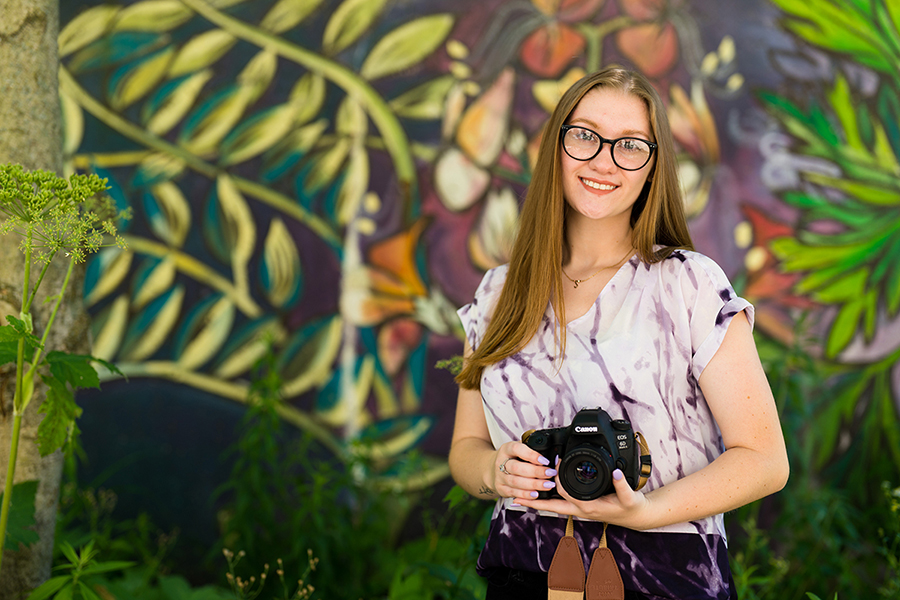 It's estimated that 75 percent of American college students start their higher education as undecided about their field of study or change their major at least once.
Shelby Beaty is not most students.
The 18-year-old Canton native has known exactly what she wants to do with her life since taking her first photography class as a sophomore at Salem High School. She wants to run her own photography business. In fact, she already does … Images by Shelby.
Beaty continues to hone her artistic ability by pursuing an associate degree in Photographic Technology at WCC, fine-tuning her skills in photojournalism, fine art and portrait photography within one of the most comprehensive photography facilities in the state.
She was also named Photo Editor of WCC's student newspaper, The Washtenaw Voice, and works as one of the college's Student Ambassadors.
Becoming the best possible photographer is one pursuit. Launching, growing and successfully operating her own small business is a very distinct challenge.
That's why Beaty is supplementing her photography associate degree curriculum by completing WCC's new, 18-credit Entrepreneurship & Innovation certificate program.
"That program has been a great eye opener as to what actually goes into a business and how hard it is to run a business and all the little things that come with it," Beaty said.
While she's continuing her education, Beaty is focusing her small business on senior portraits. While she plans to expand into studio work and fine art, she believes portraits will always be a primary (pardon the pun) focus.
"Every face is different," Beaty says. "And every face tells its own stories in a different way."
Tags: December 2021, Digital Photography, Entrepreneurship, On The Record, Photography, Student Profile, ousearch_Programs_Entrepreneurship and Innovation, ousearch_Programs_Photographic Imaging