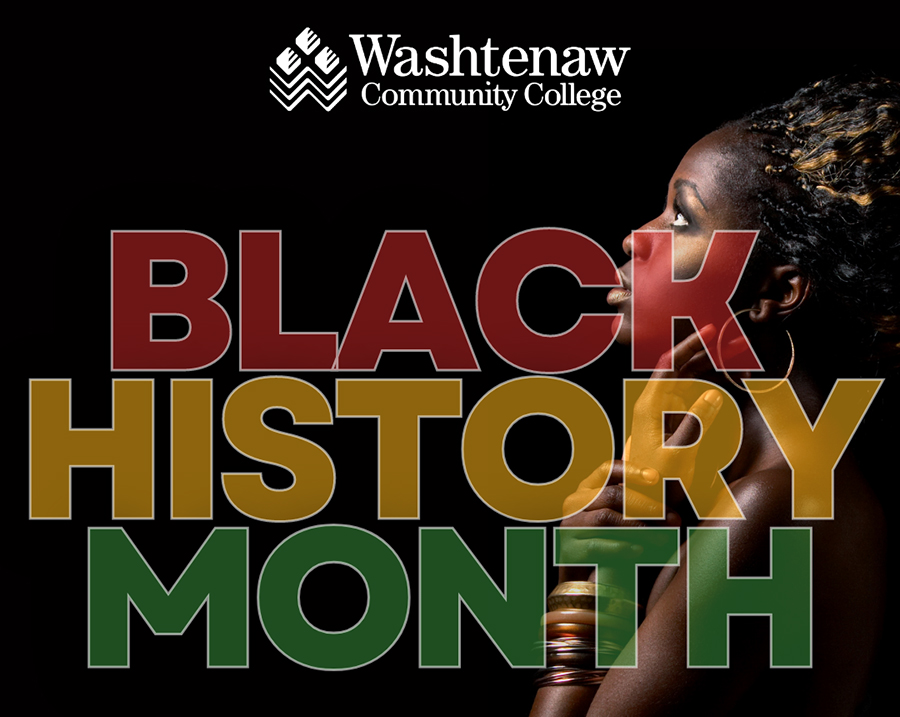 Washtenaw Community College is celebrating Black History Month with multiple events throughout February planned by its Office of Diversity & Inclusion.
"Black History Month is a time to celebrate Black excellence and history, raise awareness of current experiences, and most importantly a time to commemorate the debts endured by Black Americans that made a country of opportunity possible for all Americans to benefit from," said Dr. Eric Reed, WCC Dean of Student Access, Success, Equity, and Inclusion.
Scheduled events, with brief descriptions, include:
One Love: Poetry Open Mic
2-3 p.m., Thursday, Feb. 17
This virtual poetry open mic celebrating Black History Month, Unity and Inclusion, and Love is brought to you by the WCC Poetry Club and Bailey Library. The event will feature the work of WCC students, faculty, staff and alumni. The One Love anthology of poems, prose and visual art will be available online. All are invited to submit work. Bring a poem to read, pick a poem by an African American poet from a virtual basket during the event, or just come and listen. All are welcome to join on Zoom.
H.P. Jacobs to HBCU
3-4 p.m., Friday, Feb. 18
Did you know a Black man from Ypsilanti founded a Historically Black College and University? Eastern Michigan University professor James Egge will share the rich history and legacy of H.P. Jacobs and how he founded Jackson State University, one of WCC's HBCU Pathway partners. HBCU alumni are invited to join and share their experiences and advice with current WCC students interested in attending an HBCU. All are welcome to join on Zoom.
Black History and Student Success at WCC
12:30-1:30 p.m., Wednesday, Feb. 23
Current and former WCC employees and alumni will share their stories of their experiences and history at WCC to further inspire current faculty and staff to propel the future success of Black students. All are welcome to join on Zoom.
Beloved Community Lunch
Noon-2 p.m., Thursday, Feb. 24
A special "Beloved Community" lunch, inspired by Dr. Martin Luther King Jr.'s vision. WCC students, faculty and staff are invited to participate in an activity in honor of Black History Month, and receive a catered lunch on the first floor of the Student Center.
bell hooks: Men, Prison & a Feminist Movement
11 a.m.-noon, Friday, Feb. 25
Join this special discussion about the documentary "The Feminist on Cellblock Y." Cozine Welch, a formerly incarcerated poet, educator and activist will discuss what we can learn from the Black feminist author and scholar bell hooks, as well as the incarcerated men who drew upon her teachings to challenge their ideas about masculinity, and ultimately transform themselves. All are invited to join on Zoom. Although not necessary, viewing the documentary before attending is recommended for the best experience.
Researching Your African-American Ancestors
2-3 p.m., Wednesday, March 2
Join WCC instructor Jean Winborn, a renowned researcher in African-American genealogy, to learn resources and methods to research your ancestors. Winborn has been a family history researcher for more than 30 years and is the founder of the African-American Genealogy Association of Washtenaw County. All are welcome to join via Zoom.
The WCC Office of Diversity & Inclusion is also encouraging all students, faculty and staff to sign up for 28 Days of Black History, a free email series curated by Black artists, educators, curators and visionaries that centers Black marginalized voices that are often overlooked in Black history narratives.
Tags: Campus Events, Diversity