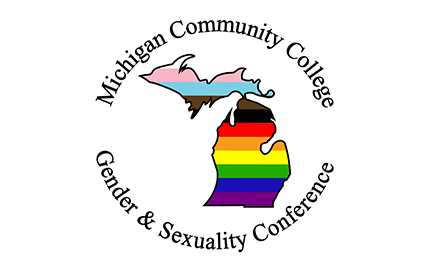 The fourth annual Michigan Community College Gender & Sexuality Conference will be held virtually on Saturday, March 12. All LGBTQIA+ students, faculty, staff and their allies from the 28 community colleges in the state are invited to attend.
Washtenaw Community College has been hosting the event since 2019 in an effort to bring programming and resources typically available only to students at large universities to the community college level.
"The opportunity to build and maintain connections and partnerships with other Michigan community colleges and four-year institutions through this annual conference has resulted in greater opportunities and support for our queer students," said conference organizer and WCC English/Writing instructor Mary Mullalond. "The students and other attendees at this conference value so much being part of such a special experience."
Mullalond said the theme for this year's conference, "Community Care," was selected by the WCC Outspace+ student organization because of the toll the pandemic has taken, particularly on the queer community.
"Having a safe space to be in community and fellowship with other queer folks has always been so important to the emotional and physical well-being of our students," said Mulloland, who serves as the faculty advisor for Outspace+. "The isolation of the pandemic has made it harder to build and foster that community, so this conference is an important opportunity to both provide care and community for our queer students — as well as faculty and staff — and encourage attendees to continue seeking ways and taking action to care for themselves and their community."
The conference includes a keynote panel and eight breakout sessions focused on the Community Care theme that will be offered between 10 a.m. and 3 p.m.
A conference welcome and the keynote panel begins at 10 a.m. The panel features queer members of our community who provide community care in their daily lives. The following participants will discuss how they maintain boundaries while doing their work and their recommendations for getting involved in community care activities:
Jason Morgan, Washtenaw County Commissioner
A. Popkey, Middle School Teacher
Tay Brown, Program Coordinator for LGBT Detroit
Cristy Lindemann, WCC Faculty and Volunteer
Leon Golson, Prevention Manager at Unified HIV Health and Beyond
Breakout sessions will be led by faculty, staff and students from WCC, Eastern Michigan University, the University of Michigan, Schoolcraft College and St. Clair County Community College. They include:
SESSION 1 (11:15 a.m.-noon)
All About Demisexuals
LGBTQIA Poets
Transfer Student Panel
(LUNCH BREAK: Noon-1 p.m.)
SESSION 2 (1-1:45 p.m.)
Intersex 101
Someone Left Their Backpack: Singular They Usage Throughout Time and the Importance of Pronouns
Transferring Your Connections: Meet & Greet with LGBTQ+ Resource Centers
SESSION 3 (2-2:45 p.m.)
Community Care Action (for students)
Lighting Talks on Inclusive Education (for faculty and staff)
Descriptions of each breakout session and speaker biographies are available on the conference website.
Mullalond and Student Equity & Inclusion Coordinator Christina Do are the primary coordinators of the event, which aims to celebrate LGBTQIA+ culture, foster academic success and build community. Along with Outspace+, the college's Transfer & Articulation Office, Entrepreneurship Center, Bailey Library, and the English and College Readiness Department are also supporting the effort.
Tags: Conference, Diversity, Gender and sexuality, Student Organizations