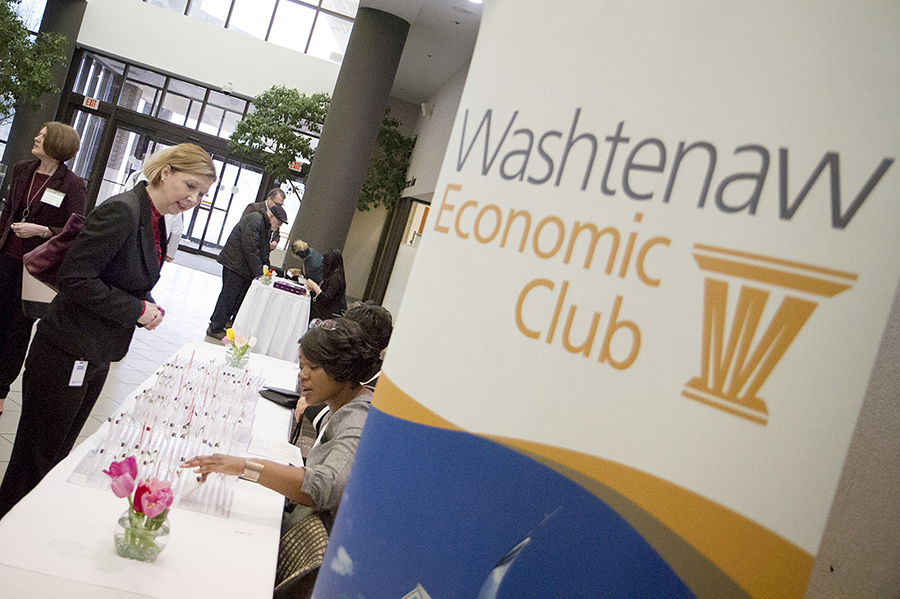 A new season of the Washtenaw Economic Club kicks off Thursday, March 24, with the annual Washtenaw County Economic Outlook presented by University of Michigan economists Gabriel Ehrlich and Michael McWilliams.
The forecast will be hosted from 11:30 a.m. to 1:30 p.m. at The Kensington Hotel in Ann Arbor and marks a return to in-person Washtenaw Economic Club events.
Business organizations and community members are invited to attend. Seating is limited. Visit the Washtenaw Economic Club website for information about individual tickets or business sponsorships.
Washtenaw Community College operates the Washtenaw Economic Club, which offers a luncheon speaker series on relevant topics as well as special events.
The 2022 Washtenaw County Economic Outlook on March 24 offers an economic forecast for the county based on payroll employment growth, unemployment and consumer inflation rates and looks ahead to employment changes in a wide array of industries.
"This is always our most heavily attended meeting of the year and an important focus for the community. We look forward to receiving the economic forecast for our county from these well-known experts and are glad to return to in-person meetings," said Brandon Tucker, WCC Associate Vice President of Workforce and Community Development.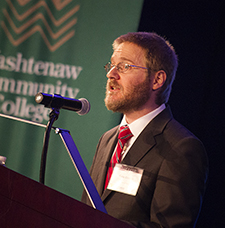 Ehrlich (right) is an economic forecaster at the University of Michigan, where he serves as director of the university's Research Seminar in Quantitative Economics (RSQE), overseeing RSQE's forecasts of the U.S. and Michigan economies.
He regularly presents to the Michigan legislature and governor on Michigan's fiscal and economic prospects. Ehrlich previously worked as an economic forecaster and analyst at the Congressional Budget Office.
He is coauthor of The U.S. Economic Outlook for 2022-2023 and The Michigan Economic Outlook for 2022-2023.
Ehrlich's work has been discussed in the Economist, the Financial Times and The Washington Post, and he has published articles recently in the New England Journal of Medicine, the Review of Economics and Statistics and the Journal of Urban Economics.
McWilliams is the Michigan forecasting specialist at RSQE. He earned his Ph.D. in economics from the University of Michigan, and he has also received an M.Sc. in economics from the London School of Economics and Political Science.
At RSQE, McWilliams assists with forecasts of the Michigan economy and leads the development of state tax revenue projections. He also participates in RSQE's local economic forecasts for the City of Detroit, Oakland County and Washtenaw County.
In 2018, McWilliams coauthored an RSQE report on the economic impacts of the Great Lakes Restoration Initiative. He also contributes to RSQE's ongoing partnership with the Michigan Economic Development Corporation to provide economic impact assessments for the state's Transformational Brownfield Plan program.
Individuals, businesses and community organizations may participate in the Washtenaw Economic Club several ways, including through a variety of membership types, as one-time event attendees or through event sponsorships.
Sponsors for the 2022 season are Ann Arbor Spark (Platinum); DTE Energy (Platinum); Washtenaw County (Platinum); Washtenaw Community College (Platinum); Hylant (Gold); ITC (Gold); McKinley (Gold).
Washtenaw Economic Club Topics and Dates
March 24 – Annual Economic Outlook & Season Kick Off
May 12 – Key Success Factors that Drive Business Growth & Resilience
September 15 – Keeping DE&I Top of Mind: Best Practices and Frameworks to Support the Growth and Impact of DE&I Efforts
November 10 – An Insider's Look at the Election Results and Their Impact on You!
Learn more and register online!
Tags: Economic Outlook, March 2022, On The Record, WEC, Washtenaw Economic Club